My Poet (Hardcover)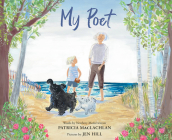 Description
---
Inspired by the life and craft of Mary Oliver, My Poet celebrates the joy of connecting perception and experience with words, with glowing artwork by Jen Hill and profound text by Newbery Medal-winning author Patricia MacLachlan.
Patricia MacLachlan has written a lyrical ode to writing, to poetry, and to the celebrated American poet, Mary Oliver. In this mesmerizing picture book, a little girl wants to write, and one summer day she joins the poet who lives nearby to explore a town on Cape Cod. Together, they look. Together, they touch. Together, they find words. All things in the natural world, the girl discovers, bring words to the poet. Can the girl find the words to write her own poetry, too?
Glorious artwork by New York Times bestselling illustrator Jen Hill illuminates the text. Mary Oliver passed away in 2019, but her way of seeing the world inspired this book. Although not biographical, the story captures the author's personal connection to the famous poet, as summarized in the author's note.
About the Author
---
Patricia MacLachlan (1938-2022) was the celebrated author of many timeless books for young readers, including Sarah, Plain and Tall, winner of the Newbery Medal. She was also the author of many beloved picture books, a number of which she cowrote with her daughter, Emily.
Jen Hill is the illustrator of several books for children, including Be Kind by Pat Zietlow Miller. She is also the author-illustrator of Percy and TumTum: A Tale of Two Dogs. Her love of poetry was sparked by her fifth-grade teacher. Jen lives in Brooklyn, New York. You can visit her online at www.jenhillstudio.com.
Praise For…
---
"Hill's ­illustrations are bright and breezy, loose, and beachy. First-person narration from the child's perspective lends an open, curious tone that may inspire readers to be close observers and try their hands at poetry, too. VERDICT A gentle but formidable addition to picture book collections everywhere; as nuanced as a poem, it spells out as much as it withholds and leaves readers with questions they'll be inspired to try to answer themselves." — School Library Journal (starred review)
"[A] dreamy introduction to the art and craft of writing [from] late Newbery Medalist MacLachlan. Lucy's quiet joy in learning to find her own words, encouraged by the poet, is uplifting for anyone who has engaged in creative process. This inviting book reads as an ode to the late poet Mary Oliver, the Cape, and new undertakings." — Publishers Weekly
"A love of words, walks, and a watery natural landscape highlight an intergenerational friendship in this posthumously published picture book from Newbery winner MacLachlan. Hill's blowsy, light-washed pictures capture the area's magic. A sweet paean to inspiration and contemplation." — Booklist
PRAISE FOR THE HUNDRED-YEAR BARN: "In meditative prose, Newbery-winner MacLachlan commemorates the life of a great barn. MacLachlan and Pak invite readers into the rhythms of the small family farm and important moments, small and great, over a century of its life."  — Publishers Weekly (starred review)
"This quiet tale captures the rhythm of rural life throughout seasons—and then over generations. MacLachlan weaves in an abundance of details that will appeal to children with no firsthand experience with farming. A cozy filter through which to imagine growing up."  — Kirkus Reviews
"MacLachlan pays tribute to a symbol of the American farm. Watercolor, gouache, pencil, ink, and digital media in browns, tans, and cinnamon, enable the red of the cap and the barn to stand out. The solid building at the heart of the farm offers comfort and continuity in the life of a family."  — Booklist
Praise for CHICKEN TALK: "Krosoczka's expressive illustrations bring humor and tenderness to each character, human and chicken. MacLachlan's latest models an attentive, loving, and respectful relationship between humans and their animal companions that even those without articulate pets will appreciate. A sweet, silly...celebration of individuality and connection."  — Kirkus Reviews
"Artwork by Krosoczka (Hey, Kiddo) uses softly sketched lines and gentle farmyard hues to provide a sense of the farm's peace and the chickens' cleverness. MacLachlan (My Father's Words) offers droll dialogue, a bucolic setting, and a spirited defense of animals as distinct beings with unacknowledged powers of observation."  — Publishers Weekly
Praise for THE POET'S DOG: "Magical. A quiet, elegant, poignant story suffused with humor, heart, and goodness."  — Kirkus Reviews (starred review)
"A spare, moving tale. Using simple words that even youngest readers will understand and enjoy, MacLachlan tackles subjects such as death and mourning with understated grace." — Publishers Weekly (starred review)
"Readers will find their own jewel in this gem of a book."  — Booklist (starred review)
"Poets find words everywhere. This quiet, gentle tale suggests that evocative language emerges when one opens oneself to commonplace visual, auditory, and tactile experiences all around. Doing so invites rich streams of wonderful words—hence, poetry. Children enjoy toying with language, and this book validates their playful enjoyment of and experiments with wordplay. A fun follow-up to a classroom or library read-aloud could include having children describe familiar objects in imaginative, poetic ways. The simple, endearing gouache illustrations ably suit the narrative. Will empower kids to realize they, too, can be poets." — Kirkus Reviews
215-862-2452
farleysbookshop@netscape.net
Situated on the main street of the historic Delaware Riverfront town of New Hope, Pennsylvania, Farley's Bookshop and its knowledgeable, experienced staff have endeavored to satisfy the literary tastes of the area inhabitants for over fifty years. Whether you are Bucks County born-and-bred or just stopping by to enjoy the crisp river air and delightful scenery, you will be pleasantly surprised to find the largest and most diverse collection of books-in-print in Bucks County. Farley's may have competition, but it has few peers. We encourage you to browse our website, but please remember that getting acquainted with our online persona is no substitute for exploring the narrow passageways and teeming shelves of our storefront and discovering that perfect book nestled amongst so many others.