Taxidermy Gone Wrong: The Funniest, Freakiest (and Outright Creepiest) Beastly Vignettes (Hardcover)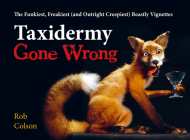 Description
---
WARNING! WEIRD WACKY AND WONDERFUL TAXIDERMY OVERLOAD. Perfect for fans of Crap Taxidermy, Taxidermy Gone Wrong takes you inside the strange and hilariously horrifying world of taxidermy from around the globe.
From musical mice and basketball playing bengals to gun-toting rodents and lawnmowing moles, Taxidermy Gone Wrong is a wonderfully weird collection of curiosities that will amuse and astonish. Bringing together scenes nature never intended, this full-color volume showcases a wide range of bizarre creations on display and available for sale around the world. From a swearing squirrel in a London antiques shop to a murderous mouse serving arsenic in a New York storefront, no animal—or macabre tableau—is off-limits. Taxidermy Gone Wrong presents the very best—or perhaps the very worst—of these bizarre anthropomorphic reconstructions.
215-862-2452
farleysbookshop@netscape.net
Situated on the main street of the historic Delaware Riverfront town of New Hope, Pennsylvania, Farley's Bookshop and its knowledgeable, experienced staff have endeavored to satisfy the literary tastes of the area inhabitants for over fifty years. Whether you are Bucks County born-and-bred or just stopping by to enjoy the crisp river air and delightful scenery, you will be pleasantly surprised to find the largest and most diverse collection of books-in-print in Bucks County. Farley's may have competition, but it has few peers. We encourage you to browse our website, but please remember that getting acquainted with our online persona is no substitute for exploring the narrow passageways and teeming shelves of our storefront and discovering that perfect book nestled amongst so many others.