The Snowy Day (Paperback)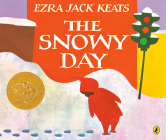 $7.99
Usually Ships in 1-5 Days
Description
---
Winner of the 1963 Caldecott Medal!
No book has captured the magic and sense of possibility of the first snowfall better than The Snowy Day. Universal in its appeal, the story has become a favorite of millions, as it reveals a child's wonder at a new world, and the hope of capturing and keeping that wonder forever.
The adventures of a little boy in the city on a very snowy day.
"Keats's sparse collage illustrations capture the wonder and beauty a snowy day can bring to a small child."—
Barnes & Noble
"Ezra Jack Keats's classic
The Snowy Day
, winner of the 1963 Caldecott Medal, pays homage to the wonder and pure pleasure a child experiences when the world is blanketed in snow."—
Publisher's Weekly
"The book is notable not only for its lovely artwork and tone, but also for its importance as a trailblazer. According to 
Horn Book
 magazine, 
The Snowy Day
 was "the very first full-color picture book to feature a small black hero"—yet another reason to add this classic to your shelves. It's as unique and special as a snowflake."—Amazon.com
About the Author
---
Ezra Jack Keats (1916–1983) is the Caldecott Medal winning author of The Snowy Day, which broke ground in 1962 as one of the first picture books for young children to portray a realistic, multi-cultural urban setting. Since its initial publication, The Snowy Day has come to be regarded as both a children's classic and one of the most important picture books ever written/illustrated. Ezra Jack Keats' legacy lives on in the popularity of his most famous character, Peter—the star of The Snowy Day, Whistle for Willie, Peter's Chair, A Letter to Amy, Goggles, and others. Visit the Ezra Jack Keats Foundation online at www.ezra-jack-keats.org
Coverage from NPR
Situated on the main street of the historic Delaware Riverfront town of New Hope, Pennsylvania, Farley's Bookshop and its knowledgeable, experienced staff have endeavored to satisfy the literary tastes of the area inhabitants for over fifty years. Whether you are Bucks County born-and-bred or just stopping by to enjoy the crisp river air and delightful scenery, you will be pleasantly surprised to find the largest and most diverse collection of books-in-print in Bucks County. Farley's may have competition, but it has few peers. We encourage you to browse our website, but please remember that getting acquainted with our online persona is no substitute for exploring the narrow passageways and teeming shelves of our storefront and discovering that perfect book nestled amongst so many others.