Miss Rumphius (Paperback)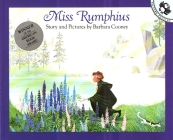 $8.99

Usually Ships in 1-5 Days
Description
---
Alice made a promise to make the world a more beautiful place, then a seed of an idea is planted and blossoms into a beautiful plan.  This beloved classic and celebration of nature—written by a beloved Caldecott winner—is lovelier than ever!

Barbara Cooney's story of Alice Rumphius, who longed to travel the world, live in a house by the sea, and do something to make the world more beautiful, has a timeless quality that resonates with each new generation. The countless lupines that bloom along the coast of Maine are the legacy of the real Miss Rumphius, the Lupine Lady, who scattered lupine seeds everywhere she went. Miss Rumphius received the American Book Award in the year of publication.

The illustrations have been reoriginated, going back to the original art to ensure state-of-the-art reproduction of Cooney's exquisite artwork. The art for Miss Rumphius has a permanent home in the Bowdoin College Museum of Art.
About the Author
---
Like Miss Rumphius, the late Barbara Cooney traveled the world, lived in a house by the sea in Maine, and, through her art, made the world more beautiful. A two-time Caldecott Medal winner, Cooney is known for beautifully illustrated books such as her adaptation of Chaucer's The Nun Preist's Tale (Caldecott Winner, 1959), and Miss Rumphius, winner of both the American Book Award and a New York Times citation in 1982.
215-862-2452
farleysbookshop@netscape.net
Situated on the main street of the historic Delaware Riverfront town of New Hope, Pennsylvania, Farley's Bookshop and its knowledgeable, experienced staff have endeavored to satisfy the literary tastes of the area inhabitants for over fifty years. Whether you are Bucks County born-and-bred or just stopping by to enjoy the crisp river air and delightful scenery, you will be pleasantly surprised to find the largest and most diverse collection of books-in-print in Bucks County. Farley's may have competition, but it has few peers. We encourage you to browse our website, but please remember that getting acquainted with our online persona is no substitute for exploring the narrow passageways and teeming shelves of our storefront and discovering that perfect book nestled amongst so many others.