My Teacher for President (Paperback)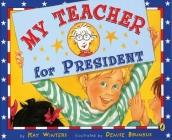 List Price: $7.99
Our Price: $6.99
(Save: $1.00 13%)
Description
---
Just in time for election season, a nomination teachers and students alike will endorse.
Oliver has been learning about the president's job, and his teacher would be the perfect candidate. She loves white houses, she's used to being followed everywhere, she attends lots of meetings, she finds jobs for people, and she believes in peace. Images of Oliver's teacher depicted during a typical school day are contrasted with scenes of his heroine carrying out presidential duties.


About the Author
---
Kay Winters lives in Bucks County, Pennsylvania. Denise Brunkus lives in New Jersey.
215-862-2452
farleysbookshop@netscape.net
Situated on the main street of the historic Delaware Riverfront town of New Hope, Pennsylvania, Farley's Bookshop and its knowledgeable, experienced staff have endeavored to satisfy the literary tastes of the area inhabitants for over fifty years. Whether you are Bucks County born-and-bred or just stopping by to enjoy the crisp river air and delightful scenery, you will be pleasantly surprised to find the largest and most diverse collection of books-in-print in Bucks County. Farley's may have competition, but it has few peers. We encourage you to browse our website, but please remember that getting acquainted with our online persona is no substitute for exploring the narrow passageways and teeming shelves of our storefront and discovering that perfect book nestled amongst so many others.