Ritual: Daily Practices for Wellness, Beauty & Bliss (Paperback)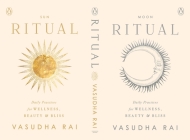 $24.99

Usually Ships in 1-5 Days
Description
---
RITUAL is a collection of practices aimed at optimizing, harmonizing and maximizing the natural energies of the day and night Renew your mind, body and spirit with activities such as sunbaths, sound healing, cleansing kriyas, beautifying masks, massages, breathwork and navel therapy. From sunrise to sunset, nightfall to dawn, these exercises will help you find moments of clarity, relaxation and bliss. Inspired by long-standing traditions, this book presents a system of daily rites to create a bespoke routine that works for modern living. Vasudha Rai invites you to play and experiment with old practices so that you can indulge in the magic of Ritual.
About the Author
---
VASUDHA RAI is an author, columnist and podcaster who has written on beauty and wellness for more than two decades. Her bestseller, Glow: Indian Foods, Recipes and Rituals for Beauty, Inside and Out, has revived the use of traditional ingredients in everyday living. She is a certified yoga teacher. Her beauty column appears in HT Mint Lounge and her podcast, Holistic Healing with Vasudha Rai-in association with Red FM, India's leading radio channel-streams on all major platforms. Her work has appeared in publications such as Vogue, Conde Nast Traveller and The Hindu Weekend.
Situated on the main street of the historic Delaware Riverfront town of New Hope, Pennsylvania, Farley's Bookshop and its knowledgeable, experienced staff have endeavored to satisfy the literary tastes of the area inhabitants for over fifty years. Whether you are Bucks County born-and-bred or just stopping by to enjoy the crisp river air and delightful scenery, you will be pleasantly surprised to find the largest and most diverse collection of books-in-print in Bucks County. Farley's may have competition, but it has few peers. We encourage you to browse our website, but please remember that getting acquainted with our online persona is no substitute for exploring the narrow passageways and teeming shelves of our storefront and discovering that perfect book nestled amongst so many others.