Teammates (Paperback)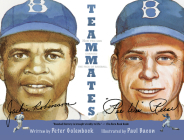 $7.99

Usually Ships in 1-5 Days
Description
---
This is the moving story of how Jackie Robinson became the first black player on a Major League baseball team when he joined the Brooklyn Dodgers in the 1940s, and how on a fateful day in Cincinnati, Pee Wee Reese took a stand and declared Jackie his teammate. Illustrated with a blend of historic photographs and eloquent watercolors by Paul Bacon.
About the Author
---
Peter Golenbock is a well-known writer of books about sports, espcecially baseball. He lives in Ridgefield, Connecticut.
Paul Bacon (1923-2015) was a revered book designer and illustrator who created some of the most iconic book jackets of his time, including that of
Catch 22
and
Slaughterhouse Five.
Situated on the main street of the historic Delaware Riverfront town of New Hope, Pennsylvania, Farley's Bookshop and its knowledgeable, experienced staff have endeavored to satisfy the literary tastes of the area inhabitants for over fifty years. Whether you are Bucks County born-and-bred or just stopping by to enjoy the crisp river air and delightful scenery, you will be pleasantly surprised to find the largest and most diverse collection of books-in-print in Bucks County. Farley's may have competition, but it has few peers. We encourage you to browse our website, but please remember that getting acquainted with our online persona is no substitute for exploring the narrow passageways and teeming shelves of our storefront and discovering that perfect book nestled amongst so many others.