The Christmas Present Hunt: With Lots of Flaps to Look Under (Peter Rabbit) (Novelty book)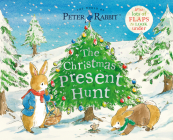 Description
---
Help Peter find the missing Christmas presents in this charming lift-the-flap picture book! It's the perfect gift for the holidays!

Merry Christmas from Peter Rabbit!

Peter Rabbit is very excited about Christmas--the tree is decorated and Mrs. Rabbit has made delicious treats for the whole family to enjoy. But where are his sisters' presents? Peter hid them so they would be safe but he can't remember where they are. With lots of flaps to lift, you can help Peter find the missing gifts and celebrate Christmas with the Rabbit family in this festive new story.
About the Author
---
Beatrix Potter was born on July 28, 1866, at No 2, Bolton Gardens, Kensington, London. She loved nature and drawing as a child. In 1893, Beatrix sat down to write a picture letter to Noel Moore, the five-year-old son of her ex-governess, all about a naughty rabbit called Peter. Noel was ill in bed and so Beatrix wrote to him: "My dear Noel, I don't know what to write to you, so I shall tell you a story about four little rabbits...." And that's how The Tale of Peter Rabbit was created. It wasn't until 1902 that Frederick Warne published what would become one of the most beloved stories in children's books.
215-862-2452
farleysbookshop@netscape.net
Situated on the main street of the historic Delaware Riverfront town of New Hope, Pennsylvania, Farley's Bookshop and its knowledgeable, experienced staff have endeavored to satisfy the literary tastes of the area inhabitants for over fifty years. Whether you are Bucks County born-and-bred or just stopping by to enjoy the crisp river air and delightful scenery, you will be pleasantly surprised to find the largest and most diverse collection of books-in-print in Bucks County. Farley's may have competition, but it has few peers. We encourage you to browse our website, but please remember that getting acquainted with our online persona is no substitute for exploring the narrow passageways and teeming shelves of our storefront and discovering that perfect book nestled amongst so many others.