Wutaryoo (Hardcover)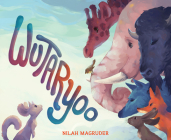 January/February 2022 Kids Indie Next List
---
"Sometimes animals ask her 'Wutaryoo?' Wutaryoo doesn't know the answer herself. Determined to find an answer, she sets off on a worldwide adventure. A gorgeously illustrated tale of endurance, discovery, and what it means to belong."
— Andrew King, Secret Garden Bookshop, Seattle, WA
Description
---
Wutaryoo is tired of not knowing who she is or where she comes from—so she sets off on an adventure to reveal her true history in this essential picture book about telling your own story and finding your own truth.
"What are you?" "Where are you from?" "Who are your people?"
These are questions the mysterious creature known as Wutaryoo has been asked all her life—and she has no idea how to answer. The rabbit was born from a gardener's hole. The wolf was born in moonlight. All the animals know their origin stories, so why doesn't Wutaryoo know her own?
Confused and curious, she sets off on a journey to discover her own ancestry in this heartwarming, relatable tale for young readers as well as recent and soon-to-be graduates.
About the Author
---
Nilah Magruder is the author of M.F.K., a middle grade graphic novel and winner of the Dwayne McDuffie Award for Diversity, and the picture books Wutaryoo and How to Find a Fox. She has also written comics for Marvel and illustrated for Disney, Scholastic, and Penguin. When she is not working in her home studio in Western Maryland, Nilah is watching movies, growing herbs, and fighting her cat for control of her desk chair.
Praise For…
---
"Employing beguiling characters and dreamlike artwork, Magruder makes a case for individual worth: it's not illustrious ancestry that makes creatures special, but what they do themselves—and the generosity with which they share their experience." — Publishers Weekly
"Through the highly entertaining origin stories here, aided by color-drenched digital illustrations, Wutaryoo's realization that you are the story you live may be especially relevant to adopted, foster, and donor-conceived children." — Booklist
"Magruder's training as an animator is evident in both the perspectives of the digital illustrations and the use of light to create wonderfully contrasting moods. The text is well turned, with the philosophical appeal of a mythical hero's journey."  — Kirkus Reviews
"[M]ore discerning readers may identify several possible interpretations of Wutaryoo's story, while all will get the message that they have the power to create their own story and define who they are.... A warmhearted tale of the journey to self-discovery." — School Library Journal
215-862-2452
farleysbookshop@netscape.net
Situated on the main street of the historic Delaware Riverfront town of New Hope, Pennsylvania, Farley's Bookshop and its knowledgeable, experienced staff have endeavored to satisfy the literary tastes of the area inhabitants for over fifty years. Whether you are Bucks County born-and-bred or just stopping by to enjoy the crisp river air and delightful scenery, you will be pleasantly surprised to find the largest and most diverse collection of books-in-print in Bucks County. Farley's may have competition, but it has few peers. We encourage you to browse our website, but please remember that getting acquainted with our online persona is no substitute for exploring the narrow passageways and teeming shelves of our storefront and discovering that perfect book nestled amongst so many others.