The Lizard Scientists: Studying Evolution in Action (Scientists in the Field) (Hardcover)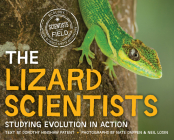 $18.99

Usually Ships in 1-5 Days
Description
---
In this groundbreaking, exceptionally researched installment of the award-winning Scientists in the Field series, discover how lizards rapidly adapt to life in the Caribbean islands, allowing scientists to study Charles Darwin's theory of evolution by natural selection in real time. 
Award-winning author Dorothy Hinshaw Patent joins forces with scientists/filmmakers Neil Losin and Nate Dappen, whose work is detailed in the Smithsonian Channel documentary "Laws of the Lizard," to explore how the small but mighty lizards we call "anoles" are used by scientists to study basic principles of evolution and ecology. 
Travel with the team to Florida and the Caribbean as they research how anoles followed similar but independent evolutionary paths on the four major islands of the Greater Antilles (Puerto Rico, Hispaniola, Jamaica, and Cuba). So while anoles on different islands may look like close relatives, they often are not! This is Darwin's principle of natural selection at work.
And it makes anoles the perfect subjects for experiments that study how animals adapt to new challenges—such as climate change—in this exciting and timely addition to a celebrated series.
About the Author
---
Dorothy Hinshaw Patent holds a Ph.D. in zoology from the University of California, Berkeley. She lives with her husband in Missoula, Montana.
dorothyhinshawpatent.com
Nate Dappen, Ph.D. is an award-winning filmmaker and photographer based in San Diego, California. His films, photographs, books and other projects have been featured by organizations and publications like National Geographic, Vogue, The Washington Post, Scientific American, The Guardian, The World Wildlife Fund, and many others.
Neil Losin, Ph.D. is an award-winning filmmaker and photographer based in Miami, Florida. He has been using film and photography to tell science, natural history, conservation, and adventure stories for more than a decade. Neil earned his Ph.D. from UCLA's Dept. of Ecology and Evolutionary Biology in 2012, studying the ecology, evolution, and behavior of invasive Anolis lizards in Florida and the Caribbean.
Praise For…
---
"In this entry in the acclaimed series, Patent (Saving the Tasmanian Devil) introduces readers to anoles, a genus of lizards distinguished by having both dewlaps (neck folds) and toepads, and to the scientists investigating them [...] High-quality photographs of anoles and their habitats, taken by lizard scientists turned documentary filmmakers, are well aligned with the text and provide details that readers can scrutinize." — Horn Book Magazine
"Part of the prolific Scientists in the Field series, this volume by repeat contributor Patent introduces the concept of evolution through the study of anoles [...] High quality photos by a team of biologists and wildlife filmmakers showcase both the variety of anole attributes and the conditions of studying them in the wild."
— ALA Booklist
"A veteran science writer reports on some surprising recent discoveries about evolution and adaptation made by researchers studying the small tropical lizards called anoles." — Kirkus Reviews
215-862-2452
farleysbookshop@netscape.net
Situated on the main street of the historic Delaware Riverfront town of New Hope, Pennsylvania, Farley's Bookshop and its knowledgeable, experienced staff have endeavored to satisfy the literary tastes of the area inhabitants for over fifty years. Whether you are Bucks County born-and-bred or just stopping by to enjoy the crisp river air and delightful scenery, you will be pleasantly surprised to find the largest and most diverse collection of books-in-print in Bucks County. Farley's may have competition, but it has few peers. We encourage you to browse our website, but please remember that getting acquainted with our online persona is no substitute for exploring the narrow passageways and teeming shelves of our storefront and discovering that perfect book nestled amongst so many others.