Time for School, Little Blue Truck: A Back to School Book for Kids (Hardcover)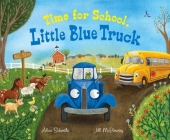 Description
---
Ride along to school with the #1 New York Times bestselling Little Blue Truck and meet Blue's new friend: a bright yellow school bus. Beep-beep!
Little Blue Truck and his good friend Toad are excited to meet a bright yellow school bus on the road. They see all the little animals lined up in the school bus's many windows, and Blue wishes he could be a school bus too. What a fun job—but much too big for a little pickup like Blue. Or is it? When somebody misses the bus, it's up to Blue to get his friend to school on time. Beep! Beep! Vroom!
Also enjoy Blue's bedtime ride in Good Night, Little Blue Truck and his trip to the city in Little Blue Truck Leads the Way!
About the Author
---
Alice Schertle is a poet and author of many well-loved books for children, including the beloved, #1 New York Times best-selling Little Blue Truck series,Very Hairy Bear, Button Up!, and All You Need for a Snowman. She lives in Plainfield, Massachusetts.
Jill McElmurry
was the illustrator of many picture books, including her own 
Mad About Plaid, When Otis Courted Mama
by Kathi Appelt and the best-selling Little Blue Truck series
,
written by Alice Schertle. She happily divided her time between the wide landscape of New Mexico and a green island in Minnesota. Jill passed away in August 2017.
Praise For…
---
Instant #1 New York Times Bestseller! "Little Blue is a brave, helpful, and hopeful character young readers will root for. Adults will feel a rush of nostalgia and delight in sharing this story with children as the animated vehicles and animals in innocent, colorful countryside scenes evoke wholesome character traits and values of growth, grit, and self-acceptance.... A terrific choice for the preschool crowd."—Kirkus "A charming tale of an endearing little truck on a mission. Perfect for story times."—School Library Journal —
215-862-2452
farleysbookshop@netscape.net
Situated on the main street of the historic Delaware Riverfront town of New Hope, Pennsylvania, Farley's Bookshop and its knowledgeable, experienced staff have endeavored to satisfy the literary tastes of the area inhabitants for over fifty years. Whether you are Bucks County born-and-bred or just stopping by to enjoy the crisp river air and delightful scenery, you will be pleasantly surprised to find the largest and most diverse collection of books-in-print in Bucks County. Farley's may have competition, but it has few peers. We encourage you to browse our website, but please remember that getting acquainted with our online persona is no substitute for exploring the narrow passageways and teeming shelves of our storefront and discovering that perfect book nestled amongst so many others.