Jimmy Corrigan: The Smartest Kid on Earth (Pantheon Graphic Library) (Paperback)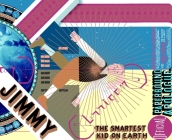 List Price: $22.00
Our Price: $19.95
(Save: $2.05 9%)
Description
---
The first book from the Chicago author of the "stunning" Building Stories (The New York Times) is a pleasantly-decorated view at a lonely and emotionally impaired "everyman," who is provided, at age 36, the opportunity to meet his father for the first time. 

"This haunting and unshakable book will change the way you look at your world." —Time magazine

"There's no writer alive whose work I love more than Chris Ware." —Zadie Smith, New York Times bestselling author of Swing Time  

An improvisatory romance which gingerly deports itself between 1890's Chicago and 1980's small town Michigan, the reader is helped along by thousands of colored illustrations and diagrams, which, when read rapidly in sequence, provide a convincing illusion of life and movement. The bulk of the work is supported by fold-out instructions, an index, paper cut-outs, and a brief apology, all of which concrete to form a rich portrait of a man stunted by a paralyzing fear of being disliked.
About the Author
---
CHRIS WARE is widely acknowledged as the most gifted and beloved cartoonist of his generation by both his mother and seven-year-old daughter. Building Stories, released in 2012, received 4 Eisner Awards, including Best Graphic Album, in 2013. His Jimmy Corrigan: The Smartest Kid on Earth won the Guardian First Book Award and was listed as one of the "100 Best Books of the Decade" by The Times (London) in 2009. An irregular contributor to This American Life and The New Yorker (where some of the pages of this book first appeared) his original drawings have been exhibited in the Whitney Biennial, the Museum of Contemporary Art in Chicago and in piles behind his work table in Oak Park, Illinois.
Praise For…
---
"This haunting and unshakable book will change the way you look at your world. Ware captures landscapes made to flatten emotion—a clinic shrouded in snow, a sterile apartment complex—and yet shows the reader the meaning and even beauty in every glimpse from a highway, every snippet of small talk." —Time magazine

"Jimmy Corrigan pushes the form of comics into unexpected formal and emotional territory." —Chicago Tribune

"Graphically inventive, wonderfully realized . . . [Jimmy Corrigan] is wonderfully illustrated in full color, and Ware's spare, iconic drawing style can render vivid architectural complexity or movingly capture the stark despondency of an unloved child." —Publishers Weekly (starred review)

"Ware's use of words is sparing, and at times maudlin. But the real joy is his art. It's stunning. In terms of attention to detail, graceful use of color, and overall design—Ware has no peer. And while each panel is relentlessly polished—never an errant line or lazily rendered image—his drawings, somehow, remain delicate and achingly lyrical." —Dave Eggers, The New York Times Book Review

Situated on the main street of the historic Delaware Riverfront town of New Hope, Pennsylvania, Farley's Bookshop and its knowledgeable, experienced staff have endeavored to satisfy the literary tastes of the area inhabitants for over fifty years. Whether you are Bucks County born-and-bred or just stopping by to enjoy the crisp river air and delightful scenery, you will be pleasantly surprised to find the largest and most diverse collection of books-in-print in Bucks County. Farley's may have competition, but it has few peers. We encourage you to browse our website, but please remember that getting acquainted with our online persona is no substitute for exploring the narrow passageways and teeming shelves of our storefront and discovering that perfect book nestled amongst so many others.