Dim Sum for Everyone! (Paperback)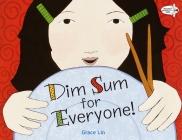 $8.99

Usually Ships in 1-5 Days
Description
---
In English, dim sum means "little hearts," or "touches the heart," but to this young girl, dim sum means delicious. On a visit to a bustling dim sum restaurant, a family picks their favorite little dishes from the steaming trolleys filled with dumplings, cakes, buns, and tarts. And as is traditional and fun, they share their food with each other so that everyone gets a bite of everything.
Just right for young children, Dim Sum for Everyone! celebrates a cultural custom and a universal favorite activity–eating!
About the Author
---
Grace Lin is an award-winning and bestselling author and illustrator. She has written and illustrated several picture books about life in a Chinese American family (based on her own!): Dim Sum for Everyone!, Kite Flying, Fortune Cookie Fortunes, and Thanking the Moon. And she was awarded a Caldecott Honor for A Big Mooncake for Little Star. Her books for older readers include the Newbery Honor winner Where the Mountain Meets the Moon, When the Sea Turned to Silver, Starry River of the Sky, The Year of the Dog, The Year of the Rat, and Ling & Ting: Not Exactly the Same!. Grace Lin grew up in upstate New York and attended the Rhode Island School of Design. She now lives in Massachusetts. To learn more, visit gracelin.com.
Praise For…
---
"Like the pleasures of dim sum, this is a compact treat."—Booklist, Starred

"A delightful read-aloud."—Kirkus Reviews, Starred
215-862-2452
farleysbookshop@netscape.net
Situated on the main street of the historic Delaware Riverfront town of New Hope, Pennsylvania, Farley's Bookshop and its knowledgeable, experienced staff have endeavored to satisfy the literary tastes of the area inhabitants for over fifty years. Whether you are Bucks County born-and-bred or just stopping by to enjoy the crisp river air and delightful scenery, you will be pleasantly surprised to find the largest and most diverse collection of books-in-print in Bucks County. Farley's may have competition, but it has few peers. We encourage you to browse our website, but please remember that getting acquainted with our online persona is no substitute for exploring the narrow passageways and teeming shelves of our storefront and discovering that perfect book nestled amongst so many others.