This School Year Will Be the BEST! (Hardcover)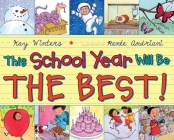 $16.99
Usually Ships in 1-5 Days
Description
---
On the first day of school, new classmates are asked to share what they would most like to happen in the upcoming year. Some kids' hopes are familiar while others are off-the-wall. Whether it's looking good on picture day or skateboarding at school, everyone's wishes are shown in humorously exaggerated illustrations. As the first day draws to a close, there can be no doubt—this school year will definitely be the best!
About the Author
---
Kay Winters lives in Bucks County, Pennsylvania.
Renée Andriani was born in Ridgefield, Connecticut, and holds a BFA from the Rhode Island School of Design. She now lives in Leawood, Kansas.
Praise For…
---
"A good discussion starter for the beginning of the school year."--Booklist
Situated on the main street of the historic Delaware Riverfront town of New Hope, Pennsylvania, Farley's Bookshop and its knowledgeable, experienced staff have endeavored to satisfy the literary tastes of the area inhabitants for over fifty years. Whether you are Bucks County born-and-bred or just stopping by to enjoy the crisp river air and delightful scenery, you will be pleasantly surprised to find the largest and most diverse collection of books-in-print in Bucks County. Farley's may have competition, but it has few peers. We encourage you to browse our website, but please remember that getting acquainted with our online persona is no substitute for exploring the narrow passageways and teeming shelves of our storefront and discovering that perfect book nestled amongst so many others.