The Magic School Bus Lost in the Solar System (Paperback)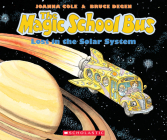 Description
---
To celebrate its 20th anniversary, Scholastic is re-releasing the ten original Magic School Bus titles in paperback. With updated scientific information, the bestselling science series ever is back!The fieldtrip to the planetarium is foiled when the museum turns out to be closed, but Ms. Frizzle saves the day. The Magic School Bus turns into a spaceship and takes the class on a trip zooming through the atmosphere, to the Moon, and beyond! With up-to-date facts about the solar system, revised for this edition.Don't miss the all-new Magic School Bus: Rides Again book series and the animated show streaming on Netflix now!
About the Author
---
Bruce Degen is the bestselling author and illustrator of the beloved, perennial favorite Jamberry and numerous award-winning books for children. He is also the illustrator of the highly-acclaimed Magic School Bus series by Joanna Cole.
Joanna Cole has been creating books about the Magic School Bus for more than twenty years. She is a recipient of many awards, most recently the National Endowment for the Arts Foundation Award for Outstanding Service to Public Education. She lives in Key West, with her husband.
215-862-2452
farleysbookshop@netscape.net
Situated on the main street of the historic Delaware Riverfront town of New Hope, Pennsylvania, Farley's Bookshop and its knowledgeable, experienced staff have endeavored to satisfy the literary tastes of the area inhabitants for over fifty years. Whether you are Bucks County born-and-bred or just stopping by to enjoy the crisp river air and delightful scenery, you will be pleasantly surprised to find the largest and most diverse collection of books-in-print in Bucks County. Farley's may have competition, but it has few peers. We encourage you to browse our website, but please remember that getting acquainted with our online persona is no substitute for exploring the narrow passageways and teeming shelves of our storefront and discovering that perfect book nestled amongst so many others.