A Bear Far from Home (Hardcover)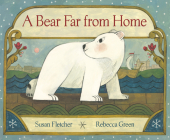 $18.99

Usually Ships in 1-5 Days
Description
---
This poignant historical nonfiction book, about a polar bear that was gifted to King Henry III, beautifully shows the importance of respecting our natural world and its precious animals.

Long ago, when kings and queens ruled much of the world, the king of Norway gave the king of England a bear.

Imagine a polar bear at ease in her natural arctic world, her only home--until trappers capture her and take her to the king of England.

Imagine a polar bear in her lonely new world, stuck in a cage. This small, enclosed space is her only home--until King Henry III decrees that she be brought to the Thames River every day to swim and fish.

Imagine now this same polar bear dipping a curious paw in the river water, then leaping in with a joyful splash. And it is here, in this unfamiliar, faraway land, in one small way, that she finds home once again.
About the Author
---
Susan Fletcher has written numerous books for children, including the middle-grade novel Journey of the Pale Bear, which Kirkus called "a stupendous coming-of-age" novel in a starred review. Her novel Alphabet of Dreams was selected by the American Library Association as a Best Book for Young Adults. Susan is also the author of the Dragon Chronicles, composed of Dragon's Milk, Flight of the Dragon Kyn, Sign of the Dove, and Ancient, Strange, and Lovely; and Shadow Spinner, Walk Across the Sea, and Falcon in the Glass. She lives in Bryan, Texas. Visit her at SusanFletcher.com.

Rebecca Green is the illustrator of Madame Saqui: Revolutionary Rope Dancer and How to Make Friends with a Ghost, which she also wrote. Booklist called the latter "a heartfelt lesson in kindness and caring." Most recently, she illustrated Kafka and the Doll, which received two starred reviews. In addition to working as an illustrator for children's books, magazines, and galleries, she also helped run The Warren, a studio in Nashville that houses five working artists and hosts a variety of community events. Some of her clients include HarperCollins, Houghton Mifflin Harcourt, the Wall Street Journal, and Flow magazine. Visit her at myblankpaper.com.
Praise For…
---
★ "A beautiful package that puts a beating heart into history." —Booklist, starred review
215-862-2452
farleysbookshop@netscape.net
Situated on the main street of the historic Delaware Riverfront town of New Hope, Pennsylvania, Farley's Bookshop and its knowledgeable, experienced staff have endeavored to satisfy the literary tastes of the area inhabitants for over fifty years. Whether you are Bucks County born-and-bred or just stopping by to enjoy the crisp river air and delightful scenery, you will be pleasantly surprised to find the largest and most diverse collection of books-in-print in Bucks County. Farley's may have competition, but it has few peers. We encourage you to browse our website, but please remember that getting acquainted with our online persona is no substitute for exploring the narrow passageways and teeming shelves of our storefront and discovering that perfect book nestled amongst so many others.