Women in Art Puzzle: Fearless Creatives Who Inspired the World 500-Piece Jigsaw Puzzle and Poster: Jigsaw Puzzles for Adults and Jigsaw Puzzles for Kids (Women in Science) (Game)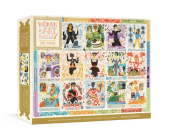 Description
---
This enlightening puzzle from New York Times bestselling author and artist Rachel Ignotofsky celebrates fifteen pioneering female artists in colorful detail.

• Features a diverse array of fifteen accomplished female artists, from well-known figures such as Frida Kahlo and Georgia O'Keefe to lesser-known trailblazers including nineteenth-century African American sculptor Mary Edmonia Lewis and Hopi-Tewa ceramic artist Nampeyo.
• Brilliant portraits are sure to delight the art enthusiasts, feminists, and puzzle lovers in your life.
• Sturdy puzzle pieces fit perfectly together, are virtually dust-free with minimal glare, and are designed to be easily handled by art lovers of all ages. Pieces are stored in polybag to avoid damage.
• Includes an 18 in. by 24 in. poster of the finished puzzle's design for reference.
About the Author
---
Rachel Ignotofsky is a New York Times bestselling author, illustrator, and designer. She graduated from Tyler School of Art's graphic design program and formerly worked as a senior designer and illustrator at Hallmark Greetings. Rachel and her work have been featured in many print and online media outlets such as The New York Times, Los Angeles Times, Scientific American, Science Friday, Brain Pickings, and more. She is the author of Women in Science, Women in Sports, I Love Science, The Wondrous Workings of Planet Earth, and Women in Art.
215-862-2452
farleysbookshop@netscape.net
Situated on the main street of the historic Delaware Riverfront town of New Hope, Pennsylvania, Farley's Bookshop and its knowledgeable, experienced staff have endeavored to satisfy the literary tastes of the area inhabitants for over fifty years. Whether you are Bucks County born-and-bred or just stopping by to enjoy the crisp river air and delightful scenery, you will be pleasantly surprised to find the largest and most diverse collection of books-in-print in Bucks County. Farley's may have competition, but it has few peers. We encourage you to browse our website, but please remember that getting acquainted with our online persona is no substitute for exploring the narrow passageways and teeming shelves of our storefront and discovering that perfect book nestled amongst so many others.