As Night Falls: Creatures That Go Wild After Dark (Hardcover)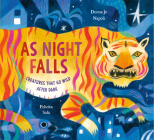 $18.99

Usually Ships in 1-5 Days
Description
---
This science-themed picture book is for the littlest nature aficionado. Bursting with vibrant illustrations, it offers an inviting look into the secret world of how nature goes BERSERK at night!

As night falls. The earth cools. Waters calm. Winds hush…
But outside, night time is action time for some.
Silly action. Hungry action. Wild action.

From microscopic organisms to giant cats, it's surprising who you'll find awake in the middle of the night! Dinoflagellates guzzle floating bacteria, bumblebee bats loop and swoop, racer snakes slither, weasels sneak and circle, and spot-bellied eagle owls leap and sweep. One by one, the animals of the food chain find their next scrumptious treat.

For children whose curiosity abounds, and restless sleepers greedy for one more story or one more goodnight kiss, this distinctive picture book with a science focus gives a peek at the animals that come alive at night. The striking words of Donna Jo Napoli join the electric and wild illustrations of acclaimed artist Felicita Sala to make this the perfect picture book to help young readers get out all their wiggles and giggles before bed.
About the Author
---
Donna Jo Napoli is both a linguist and a writer of children's and young adult fiction. Her most recent work is the picture book Words to Make a Friend, and some of her stories for young adults include Stones in Water, Treasury of Greek Mythology, Treasury of Norse Mythology, and Daughter of Venice. She has five children and eight grandchildren. She dreams of moving to the woods and becoming a naturalist. She loves to garden, bake bread, dance, and make pottery.

Felicita Sala is a self-taught illustrator. She has created pictures for several books, among them Be a Tree! by Maria Gianferrari, Joan Procter, Dragon Doctor by Patricia Valdez, and She Made a Monster by Lynn Fulton, which was selected among the best illustrated books by the New York Times. In 2020, she was awarded the Premio Andersen as the best illustrator in Italy. She grew up in Australia, next to the ocean, and now lives in Rome, Italy, with her family. She loves insect documentaries and drawing animals, especially made up ones.
Praise For…
---
"Gouache, watercolor, ink, colored-pencil, and oil pastel illustrations layer bright colors that pop off the dark nighttime backgrounds and make dramatic use of light and shadow. Attractive compositions of flowing, swirling lines and shapes create the movement necessary for this busy animal world." —The Horn Book

"A charming, energetic attention-grabber…" —Kirkus Reviews
215-862-2452
farleysbookshop@netscape.net
Situated on the main street of the historic Delaware Riverfront town of New Hope, Pennsylvania, Farley's Bookshop and its knowledgeable, experienced staff have endeavored to satisfy the literary tastes of the area inhabitants for over fifty years. Whether you are Bucks County born-and-bred or just stopping by to enjoy the crisp river air and delightful scenery, you will be pleasantly surprised to find the largest and most diverse collection of books-in-print in Bucks County. Farley's may have competition, but it has few peers. We encourage you to browse our website, but please remember that getting acquainted with our online persona is no substitute for exploring the narrow passageways and teeming shelves of our storefront and discovering that perfect book nestled amongst so many others.