Roman Numerals I to Mm: Liber De Difficillimo Computando Numerum (Paperback)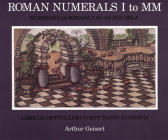 List Price: $7.99
Our Price: $4.50
(Save: $3.49 44%)
Description
---
With a farm of pigs as his abacus, Arthur Geisert uses elements of a search and count game to bring Roman numerals to life in this unintimidating math-concept book. First, the seven Roman numerals are equated with the correct number of piglets. Then the reader may practice counting other items—hot-air balloons, gopher holes, and more—as the remarkable adventure unfolds. (And yes, there are one thousand pigs in the etching for M!)
About the Author
---
Arthur Geisert's unique and exquisite etchings have been widely praised and exhibited at the Chicago Institute of Art, among other museums. His work is regularly selected for the Society of Illustrators', annual Original Art exhibition, and his illustrations are now being collected by the Dubuque Museum of Art. He lives in a converted bank in Bernard, Iowa.
Praise For…
---
"As always, Geisert's detailed etchings reward extended perusal, and children will revel in the sheer abundance of pigs. A great lesson in Roman numerals, this book scores a certain X." Publishers Weekly, Starred —
215-862-2452
farleysbookshop@netscape.net
Situated on the main street of the historic Delaware Riverfront town of New Hope, Pennsylvania, Farley's Bookshop and its knowledgeable, experienced staff have endeavored to satisfy the literary tastes of the area inhabitants for over fifty years. Whether you are Bucks County born-and-bred or just stopping by to enjoy the crisp river air and delightful scenery, you will be pleasantly surprised to find the largest and most diverse collection of books-in-print in Bucks County. Farley's may have competition, but it has few peers. We encourage you to browse our website, but please remember that getting acquainted with our online persona is no substitute for exploring the narrow passageways and teeming shelves of our storefront and discovering that perfect book nestled amongst so many others.