The Runaway Bunny Lap Edition: An Easter And Springtime Book For Kids (Board book)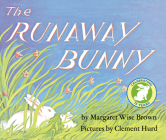 $12.99

Usually Ships in 1-5 Days
Description
---
HBO Max animated special premieres March 25, 2021!

The Runaway Bunny by Margaret Wise Brown, beloved children's book author of Goodnight Moon, is available in this beautifully designed lap board book to share over and over again. The sturdy board book pages and oversize trim size make this a perfect gift for babies and toddlers.
"If you run away," said his mother, "I will run after you. For you are my little bunny."
A little bunny keeps running away from his mother in this imaginary game of hide-and-seek. Children will be profoundly comforted by this lovingly steadfast mother who finds her child every time.
The Runaway Bunny, first published in 1942 and never out of print, has indeed become a classic. Generations of readers have fallen in love with the gentle magic of its reassuring words and loving pictures.
About the Author
---
Margaret Wise Brown, cherished for her unique ability to convey a child's experience and perspective of the world, transformed the landscape of children's literature with such beloved classics as Goodnight Moon and The Runaway Bunny. Other perennial favorites by Ms. Brown include My World; Christmas in the Barn; The Dead Bird; North, South, East, West; and Good Day, Good Night.
Clement Hurd (1908–1988) is best known for illustrating Goodnight Moon and The Runaway Bunny, the classic picture books by Margaret Wise Brown. He studied painting in Paris with Fernand Léger and others in the early 1930s. After his return to the United States in 1935, he began to work in children's books. He illustrated more than one hundred books, many of them with his wife, Edith Thacher Hurd, including the Johnny Lion books, The Day the Sun Danced, and The Merry Chase. A native of New York City, he lived most of his life in Vermont and California.
Clement Hurd (1908–1988) se graduó de Yale University. Estudió pintura en París en los años 1930 con Fernand Léger, entre otros. Allí fue donde desarrolló su estilo característico, compuesto de colores de fuerte contraste. Hurd estuvo casado con la escritora Edith Thacher Hurd, con quien también creó muchos libros que se convirtieron en favoritos de los niños.
215-862-2452
farleysbookshop@netscape.net
Situated on the main street of the historic Delaware Riverfront town of New Hope, Pennsylvania, Farley's Bookshop and its knowledgeable, experienced staff have endeavored to satisfy the literary tastes of the area inhabitants for over fifty years. Whether you are Bucks County born-and-bred or just stopping by to enjoy the crisp river air and delightful scenery, you will be pleasantly surprised to find the largest and most diverse collection of books-in-print in Bucks County. Farley's may have competition, but it has few peers. We encourage you to browse our website, but please remember that getting acquainted with our online persona is no substitute for exploring the narrow passageways and teeming shelves of our storefront and discovering that perfect book nestled amongst so many others.