Magic Crystal Ball: See the Future! (RP Minis) (Paperback)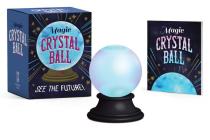 $12.95

Usually Ships in 1-5 Days
Description
---
Find the answers you seek and see into your future!
Bring a touch of magic to your office or home with the
Magic Crystal Ball.
With a wave your hand over the miniature 3" glass crystal ball to unlock the mystical powers of a fortune teller and reveal one of 15 "answers" to help guide you. Perfect for when you need a little guidance or want to show off your mystical skills at work or with friends, the
Magic Crystal Ball
will help you achieve balance, put you on the path to fulfilling your dreams, and finding happiness.


Kit includes:

A mini 3" glass crystal ball with motion activated light (glowing aura) and sound (music and mystical answers).
A black base

A 48-page mini book, with a brief history and tips on how to use your crystal ball

About the Author
---
Marlo Scrimizzi is a book editor who gets to have fun every day developing puzzles, stories, jokes, and activities for children, which is quite fitting because she is still a kid at heart. Marlo lives in northeast Pennsylvania where she enjoys fresh air, doing yoga, amateur fly fishing, and bird watching with her cat, Ted.
Situated on the main street of the historic Delaware Riverfront town of New Hope, Pennsylvania, Farley's Bookshop and its knowledgeable, experienced staff have endeavored to satisfy the literary tastes of the area inhabitants for over fifty years. Whether you are Bucks County born-and-bred or just stopping by to enjoy the crisp river air and delightful scenery, you will be pleasantly surprised to find the largest and most diverse collection of books-in-print in Bucks County. Farley's may have competition, but it has few peers. We encourage you to browse our website, but please remember that getting acquainted with our online persona is no substitute for exploring the narrow passageways and teeming shelves of our storefront and discovering that perfect book nestled amongst so many others.