UFO Cow Abduction: Beam Up Your Bovine (With Light and Sound!) (RP Minis) (Paperback)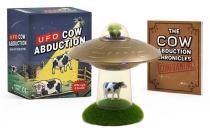 $12.95

Usually Ships in 1-5 Days
Description
---
This out-of-this-world kit for sci-fi lovers is loaded with special effects! It includes:
-3-inch diameter spaceship, equipped with a hinged cockpit dome from which a curious alien peers, and featuring multiple light and sound effects:
By opening the cockpit dome and pressing the alien's head, sound of spaceship engine plays, followed by eerie pre-abduction music. Six blue lights around the spaceship flash in rotation. Additionally, two bright LED lights beneath the ship glow, casting a beam of light in search of a specimen to abduct.
When the spaceship is hovered in close proximity to the cow, a magnetically powered "abduction" occurs which simultaneously prompts new light and sound effects. Lights beneath the ship flash and music changes to a pulsating sound with intermittent cow mooing.
When cow is abducted and alien head is pressed again, sound of the spaceship flying away plays, concluding your invasion and shutting off the spaceship.
-Miniature cow and faux grass mound -Transparent display stand to hover spaceship over cow when not invading the countryside -32-page book,
The Cow Abduction Chronicles
, featuring full-color illustrations
About the Author
---
Matt Smiriglio is a freelance writer, avid sci-fi enthusiast, and #1 fan of Running Press Mini Kits. He lives in Philadelphia, PA.
215-862-2452
farleysbookshop@netscape.net
Situated on the main street of the historic Delaware Riverfront town of New Hope, Pennsylvania, Farley's Bookshop and its knowledgeable, experienced staff have endeavored to satisfy the literary tastes of the area inhabitants for over fifty years. Whether you are Bucks County born-and-bred or just stopping by to enjoy the crisp river air and delightful scenery, you will be pleasantly surprised to find the largest and most diverse collection of books-in-print in Bucks County. Farley's may have competition, but it has few peers. We encourage you to browse our website, but please remember that getting acquainted with our online persona is no substitute for exploring the narrow passageways and teeming shelves of our storefront and discovering that perfect book nestled amongst so many others.