Twelve Rounds to Glory (12 Rounds to Glory): The Story of Muhammad Ali (Paperback)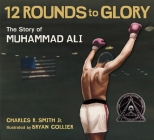 Description
---
"An in-depth look at Ali's life through twelve rhyming poems. . . . Collier's bold pictures . . . are among the best of his illustrious career." — Booklist (starred review)

From the moment a fired-up teenager won 1960 Olympic gold to the day when a retired legend, hands shaking from Parkinson's, returned to raise the Olympic torch, the boxer known as "The Greatest" waged many a fight. Some were in the ring, against opponents like Sonny Liston and Joe Frazier; others were against societal prejudice and a war he refused to support because of his Islamic faith. The rap-inspired verse weaves and bobs and jabs, while bold collage artwork matches every move, capturing the "Louisville loudmouth with the great gift of rhyme" who shed the name Cassius Clay to take on the world as Muhammad Ali. Back matter includes a time line.
About the Author
---
Praise For…
---
Collier's bold pictures...are among the best of his illustrious career, capturing both nuance and excitement.
—Booklist (starred review)
215-862-2452
farleysbookshop@netscape.net
Situated on the main street of the historic Delaware Riverfront town of New Hope, Pennsylvania, Farley's Bookshop and its knowledgeable, experienced staff have endeavored to satisfy the literary tastes of the area inhabitants for over fifty years. Whether you are Bucks County born-and-bred or just stopping by to enjoy the crisp river air and delightful scenery, you will be pleasantly surprised to find the largest and most diverse collection of books-in-print in Bucks County. Farley's may have competition, but it has few peers. We encourage you to browse our website, but please remember that getting acquainted with our online persona is no substitute for exploring the narrow passageways and teeming shelves of our storefront and discovering that perfect book nestled amongst so many others.