Voice of Freedom: Fannie Lou Hamer: The Spirit of the Civil Rights Movement (Hardcover)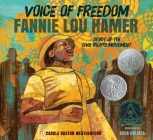 $18.99

Usually Ships in 1-5 Days
Description
---
A 2016 Caldecott Honor Book
A 2016 Robert F. Sibert Honor Book
A 2016 John Steptoe New Talent Illustrator Award Winner

Stirring poems and stunning collage illustrations combine to celebrate the life of Fannie Lou Hamer, a champion of equal voting rights.

"I am sick and tired of being sick and tired."

Despite fierce prejudice and abuse, even being beaten to within an inch of her life, Fannie Lou Hamer was a champion of civil rights from the 1950s until her death in 1977. Integral to the Freedom Summer of 1964, Ms. Hamer gave a speech at the Democratic National Convention that, despite President Johnson's interference, aired on national TV news and spurred the nation to support the Freedom Democrats. Featuring vibrant mixed-media art full of intricate detail, Voice of Freedom celebrates Fannie Lou Hamer's life and legacy with a message of hope, determination, and strength.
About the Author
---
Carole Boston Weatherford, a New York Times best-selling author and poet, was named the 2019 Washington Post Children's Book Guild Nonfiction Award winner. Her numerous books for children include the Coretta Scott King Author Award winner Unspeakable: The Tulsa Race Massacre, illustrated by Floyd Cooper; the Caldecott Honor Books Moses: When Harriet Tubman Led Her People to Freedom, illustrated by Kadir Nelson, and Voice of Freedom: Fannie Lou Hamer, Spirit of the Civil Rights Movement, illustrated by Ekua Holmes, which was also a Robert F. Sibert Honor Book; and the critically acclaimed Schomburg: The Man Who Built a Library, illustrated by Eric Velasquez. Carole Boston Weatherford lives in North Carolina.


Ekua Holmes is a fine artist whose work explores themes of family, relationships, hope, and faith. In 2013 she was named to the Boston Arts Commission, which oversees public art projects on city property. Voice of Freedom is her first picture book. Ekua Holmes lives in Boston.
Praise For…
---
A welcome addition to civil rights literature for children ... Hamer's determination, perseverance, and unwavering resolve come through on every page. Holmes' quiltlike collage illustrations emphasize the importance Hamer placed on community among African-Americans. Young readers who open this book with just a vague notion of who Fannie Lou Hamer was will wonder no more after absorbing this striking portrait of the singer and activist. Bold, honest, informative, and unforgettable.
—Kirkus Reviews (starred review)

Caldecott Honor winner Weatherford (Moses: When Harriet Tubman Led Her People to Freedom, 2006) has rendered Hamer's voice so precisely that it is like sitting at her knee as she tells her story. Holmes' multimedia collages perfectly capture the essence of each poem. Like Hamer's life, the illustrations are filled with light, texture, movement, and darkness. They are both abstract and realistic, brilliantly juxtaposing gentle floral motifs with protest placards and Fannie Lou Hamer's face in bold relief. Ultimately, though this is Hamer's story, it includes the collaborative struggles of others with whom she worked and fought for a different America. Bold, unapologetic, and beautiful.
—Booklist (starred review)

Told in the first person from Hamer's own perspective, this lyrical text in verse emphasizes the activist's perseverance and courage, as she let her booming voice be heard. Holmes's beautiful, vibrant collage illustrations add detail and nuance, often depicting Hamer wearing yellow, which reflects her Sunflower County roots...Hamer's heroic life story should be widely known, and this well-crafted work should find a place in most libraries.
—School Library Journal (starred review)

Artist Holmes, in her children's literature debut, elevates an already excellent narrative with richly colored collage illustrations that layer meaning upon meaning with scraps of historical photos, newsprint, maps, musical scores, and more...This majestic biography offers a detailed, intelligible overview of Hamer's life while never losing the thread of her motivations, fears, and heroic triumphs, and places the civil rights movement in personal, local, national, and international contexts.
—The Horn Book (starred review)

In a series of poems in this biography, Weatherford traces the life of Fannie Lou Hamer from her childhood as the youngest of 20 children of sharecroppers in Mississippi to her social and political activism...The poems feature particular events in Hamer's life and their implications, which provide readers with memorable, heart-wrenching details.
—Literacy Daily

Consider this not only as an accessible biography but also as a piece for solo or duet performance.
—Bulletin of the Center for Children's Books

The combination of history, poetry, and brilliant watercolor illustrations makes this a picture book on the Civil Rights Movement that should not be missed.
—School Library Connection

In a new children's book, Roxbury painter and collage artist Ekua Holmes juxtaposes light and dark, flowers and protest signs to represent the life of Fannie Lou Hamer, civil-rights activist.
—The Boston Globe
Situated on the main street of the historic Delaware Riverfront town of New Hope, Pennsylvania, Farley's Bookshop and its knowledgeable, experienced staff have endeavored to satisfy the literary tastes of the area inhabitants for over fifty years. Whether you are Bucks County born-and-bred or just stopping by to enjoy the crisp river air and delightful scenery, you will be pleasantly surprised to find the largest and most diverse collection of books-in-print in Bucks County. Farley's may have competition, but it has few peers. We encourage you to browse our website, but please remember that getting acquainted with our online persona is no substitute for exploring the narrow passageways and teeming shelves of our storefront and discovering that perfect book nestled amongst so many others.