Bucks County, Pennsylvania (Hardcover)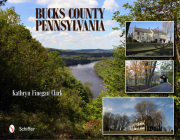 Description
---
Journey to Bucks County, Pennsylvania, for an intimate depiction of a community that's known throughout the world for its natural beauty and nurturing of the arts. Explore remnants of the county's 330-year history through 191 images and story-essays, showing how the present has roots in the past - how the old becomes new. This collection goes beyond the iconic fieldstone farmhouse and covered bridge to capture the magic flavor of the region. Visit spots most tourists never see and discover some surprising secrets, such as the oldest "old boy's club" in the world, pyramids, Ivy League Indians, and more. From estate to public park, old towns to villages, relive the history of Bucks County as it enters a prosperous now.
About the Author
---
Kathryn Finegan Clark has lived in Bucks County nearly all her life and loves it. A prize-winning journalist, she has worked for newspapers in Bucks County. With history often creeping into the stories she wrote, Kathryn discovered amazing links between past and present.
215-862-2452
farleysbookshop@netscape.net
Situated on the main street of the historic Delaware Riverfront town of New Hope, Pennsylvania, Farley's Bookshop and its knowledgeable, experienced staff have endeavored to satisfy the literary tastes of the area inhabitants for over fifty years. Whether you are Bucks County born-and-bred or just stopping by to enjoy the crisp river air and delightful scenery, you will be pleasantly surprised to find the largest and most diverse collection of books-in-print in Bucks County. Farley's may have competition, but it has few peers. We encourage you to browse our website, but please remember that getting acquainted with our online persona is no substitute for exploring the narrow passageways and teeming shelves of our storefront and discovering that perfect book nestled amongst so many others.