Nantucket Vistas (Hardcover)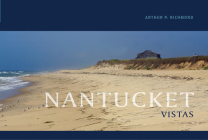 Description
---
As a souvenir or a gift, this small-format book captures Nantucket vistas in wide-view format, offering colorful panoramas to treasure for years to come. From the harbor with its iconic lighthouse to the streets of the town featuring cobblestones and quaint and upscale shops, the pages capture the highlights of time spent on the island. Continue your tour through the island's landscapes, by viewing the beaches along the north shore en route to the western end of the island and the area around Madaket. Heading east, pass the beaches on the Atlantic Ocean including Cisco and Surfside. Enjoy colorful glimpses of the former quintessential fishing village of Siasconset, with its rose-covered cottages. Just to the north are two historic lighthouses, Sankaty and Great Point. Pass by Quidnet, Polpis, Altar Rock, and Monomoy. Captured across the island, these panoramas provide an enjoyable keepsake of magnificent Nantucket.
About the Author
---
Arthur P. Richmond has been a photographer for more than fifty years. Heis the author of more than two dozen books, and his images are also found incalendars and postcards, as well as on display at several galleries inMassachusetts.
Situated on the main street of the historic Delaware Riverfront town of New Hope, Pennsylvania, Farley's Bookshop and its knowledgeable, experienced staff have endeavored to satisfy the literary tastes of the area inhabitants for over fifty years. Whether you are Bucks County born-and-bred or just stopping by to enjoy the crisp river air and delightful scenery, you will be pleasantly surprised to find the largest and most diverse collection of books-in-print in Bucks County. Farley's may have competition, but it has few peers. We encourage you to browse our website, but please remember that getting acquainted with our online persona is no substitute for exploring the narrow passageways and teeming shelves of our storefront and discovering that perfect book nestled amongst so many others.