Classic Origami for Beginners Kit: 45 Easy-To-Fold Paper Models: Full-Color Instruction Book; 98 Sheets of Folding Paper: Everything You Need Is in Th (Other)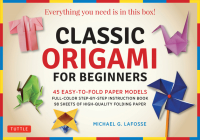 $12.99

Usually Ships in 1-5 Days
Description
---
Make striking, classic origami designs with this easy origami kit.
From world-renowned origami artist Michael G. LaFosse comes this affordable collection of classic origami paper craft projects--featuring traditional designs, as well as new twists on old favorites.
Classic Origami for Beginners Kit
has everything you need to learn about this exciting art form Perfect for origami beginners of all ages and anyone interested in Asian culture and crafting, this kit allows you to make unique handmade gifts for your loved ones.
This kit comes complete with:
Full-colored 64-page booklet
Clear, step-by-step diagrams and origami instructions
45 fun origami projects
98 sheets of 6 3/4 inch square folding papers
8 different colors and patterns, as well as a sheet of gold foil
All of the folds are simple enough to be kid's origami crafts, and are a great way to learn origami techniques.
Origami projects include:
Kite
Duck
Chopstick Rest
Sailboat
Pinwheel
Pagoda
Paper Doll
And much more...
About the Author
---
With over 40 years of experience, Michael G. LaFosse is considered a leading authority and master of the art of Origami. LaFosse is cofounder of the Origamido Studio and author of many books and videotapes about paperfolding and papermaking.
215-862-2452
farleysbookshop@netscape.net
Situated on the main street of the historic Delaware Riverfront town of New Hope, Pennsylvania, Farley's Bookshop and its knowledgeable, experienced staff have endeavored to satisfy the literary tastes of the area inhabitants for over fifty years. Whether you are Bucks County born-and-bred or just stopping by to enjoy the crisp river air and delightful scenery, you will be pleasantly surprised to find the largest and most diverse collection of books-in-print in Bucks County. Farley's may have competition, but it has few peers. We encourage you to browse our website, but please remember that getting acquainted with our online persona is no substitute for exploring the narrow passageways and teeming shelves of our storefront and discovering that perfect book nestled amongst so many others.