Stylish Succulents: Japanese Inspired Container Gardens for Small Spaces (Hardcover)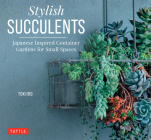 $16.99

Usually Ships in 1-5 Days
Description
---
Make inexpensive succulent projects with a Japanese aesthetic--whether you're an interior designer, avid gardener, small space enthusiast or gardening beginner
Colorful and hardy succulent plants are perfect for creating Japanese-style Ikebana arrangements for any space--whether perched on your work desk, coffee table or as a centerpiece
Stylish Succulents
presents a totally new approach to container gardening.
The book is divided into four chapters:
Planting Succulents in Containers
Using Succulents to Add Color to Walls: Creating Wreaths and Tableaux
Hanging Succulents
Living with Succulents
Learn to mix-and-match to create unique succulent groupings--trendy, low maintenance succulents come in hundreds of different colors, sizes, shapes and textures. Every design is carefully explained using detailed step-by-step instructions and photos, including:
How to choose succulents and containers to match your personal space and mood
How to utilize empty wall spaces to make dramatic hanging planters
How to make a lovely wreath for the holidays
How to create thoughtful and inexpensive succulent gifts for plant lovers
Gardeners of every level can create these miniature works of art using with relatively little time and money. The possibilities are truly endless.
About the Author
---
Yoshinobu and Tomomi Kondo, collectively known as TOKIIRO, are garden and green interior designers, authors, exhibitors, holders of workshops and purveyors of beautiful gardening containers. Their atelier in Tokyo offers a wealth of ideas for adding succulents to your living space.
215-862-2452
farleysbookshop@netscape.net
Situated on the main street of the historic Delaware Riverfront town of New Hope, Pennsylvania, Farley's Bookshop and its knowledgeable, experienced staff have endeavored to satisfy the literary tastes of the area inhabitants for over fifty years. Whether you are Bucks County born-and-bred or just stopping by to enjoy the crisp river air and delightful scenery, you will be pleasantly surprised to find the largest and most diverse collection of books-in-print in Bucks County. Farley's may have competition, but it has few peers. We encourage you to browse our website, but please remember that getting acquainted with our online persona is no substitute for exploring the narrow passageways and teeming shelves of our storefront and discovering that perfect book nestled amongst so many others.