Origami Paper 300 Sheets Nature Photo Patterns 4 (10 CM): Tuttle Origami Paper: Double-Sided Origami Sheets Printed with 12 Different Designs (Other)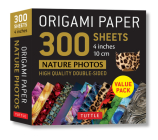 $7.99

Usually Ships in 1-5 Days
Description
---
This pack contains 300 high-quality origami sheets printed with colorful Nature Photo Patterns.
These illustrations were chosen to enhance the creative work of origami artists and paper crafters. The pack contains 12 patterns unique to this pack, and all of the papers are printed with coordinating colors on the reverse side to provide aesthetically pleasing combinations in origami projects that show both the front and back of the papers.
This origami paper pack includes:
300 sheets of high-quality origami paper
12 unique designs
Vibrant and bright colors
Double-sided color
Small 4 x 4 inch squares
About the Author
---
The Tuttle Publishing Company was established in 1948 in Rutland, Vermont and Tokyo, Japan and is today regarded as a premier publisher and seller of books rooted in Asian culture, language and history. Since its founding in 1948, Tuttle has published more than 6,000 books and today maintains an active backlist of around 2,000 titles. Today, Tuttle publishes 150 new titles each year focusing on Asian languages, Asian food & cooking, gardening & flower arranging, crafts & origami, children's books, martial arts, Asian literature, games & graphic novels, Asian history & culture, health & fitness, self-help & Eastern religion, Asian art & collectibles, interior design & architecture, travel guides, maps, and business books. Tuttle products are available in printed formats as well as popular eBook formats.
215-862-2452
farleysbookshop@netscape.net
Situated on the main street of the historic Delaware Riverfront town of New Hope, Pennsylvania, Farley's Bookshop and its knowledgeable, experienced staff have endeavored to satisfy the literary tastes of the area inhabitants for over fifty years. Whether you are Bucks County born-and-bred or just stopping by to enjoy the crisp river air and delightful scenery, you will be pleasantly surprised to find the largest and most diverse collection of books-in-print in Bucks County. Farley's may have competition, but it has few peers. We encourage you to browse our website, but please remember that getting acquainted with our online persona is no substitute for exploring the narrow passageways and teeming shelves of our storefront and discovering that perfect book nestled amongst so many others.