Fright School (Hardcover)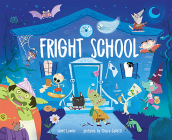 Description
---
In this hilarious rhyming story, little monsters learn the art of scaring trick-or-treaters. Follow zombies, ghouls, ghosts and many more creepy creatures as they study the most spooktacular ways to terrify their guests. Will they be able to perfect their frightening ways before Halloween? Fright School is a welcome addition to the Halloween genre that will have kids cracking up at what "school" looks like for the very monsters that scare them. And in the end, it teaches kids that they don't need to be scared of monsters—the monsters might be just as scared as them!
About the Author
---
Janet Lawler's critically acclaimed books have appeared in Scholastic Book Clubs and the Children's Book of the Month Club. Her recent works include Ocean Counting, Love is Real, and Leaves. She lives in Farmington, Connecticut. Chiara Galletti is a children's book illustrator and character designer. She has a degree in advertising at the University for Foreigners of Perugia and a specialization in E-design at the Academy of Digital Arts Nemo Florence. She lives in Italy.
Praise For…
---
"Where else but Fright School will goblins, ghosts, and ghouls learn to scare trick-or-treaters? Readers may pick up a few frightening pointers of their own for Halloween night." —Kirkus Reviews
215-862-2452
farleysbookshop@netscape.net
Situated on the main street of the historic Delaware Riverfront town of New Hope, Pennsylvania, Farley's Bookshop and its knowledgeable, experienced staff have endeavored to satisfy the literary tastes of the area inhabitants for over fifty years. Whether you are Bucks County born-and-bred or just stopping by to enjoy the crisp river air and delightful scenery, you will be pleasantly surprised to find the largest and most diverse collection of books-in-print in Bucks County. Farley's may have competition, but it has few peers. We encourage you to browse our website, but please remember that getting acquainted with our online persona is no substitute for exploring the narrow passageways and teeming shelves of our storefront and discovering that perfect book nestled amongst so many others.