Baby Animal Match: A Matching Memory Game (Cards)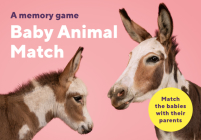 $16.99

Usually Ships in 1-5 Days
Description
---
CUTE BABY ANIMALS: can you reunite them with their parents?
BOXED GIFT perfect for animal lovers of all ages
INCLUDES BOOKLET with fun facts about the animals and their relationship with their babies

Pair up the baby animals with their parents in this cute new memory game. 44 cards feature photographs from animal portraitist Gerrard Gethings, plus text about all the creatures in the accompanying booklet. Can you be the first to match all the babies and parents? Play as a memory game with the cards face down for added entertainment. Collect the most pairs to win! This is the perfect gift for animal lovers of all ages.
About the Author
---
Gerrard Gethings is a photographer and dog lover renowned for his characterful portraits of animals. He has produced fashion, lifestyle and animal photography for a wide variety of clients within editorial, TV and advertising.
215-862-2452
farleysbookshop@netscape.net
Situated on the main street of the historic Delaware Riverfront town of New Hope, Pennsylvania, Farley's Bookshop and its knowledgeable, experienced staff have endeavored to satisfy the literary tastes of the area inhabitants for over fifty years. Whether you are Bucks County born-and-bred or just stopping by to enjoy the crisp river air and delightful scenery, you will be pleasantly surprised to find the largest and most diverse collection of books-in-print in Bucks County. Farley's may have competition, but it has few peers. We encourage you to browse our website, but please remember that getting acquainted with our online persona is no substitute for exploring the narrow passageways and teeming shelves of our storefront and discovering that perfect book nestled amongst so many others.