Soul Development Through Handwriting: The Waldorf Approach to the Vimala Alphabet (Paperback)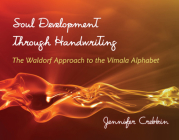 $20.00

Usually Ships in 1-5 Days
Description
---
Soul Development through Handwriting cultivates the noble qualities to which Waldorf education has long been devoted through the use of specific forms for shaping letters. The Vimala Alphabet was meticulously designed to support independent thinking, engaged willpower, balance, tolerance, honor, and intuition, as well as strengthening the developing soul forces of children.
This book considers personal characteristics, which can be transformed through certain letters. Soul Development through Handwriting includes:
∞ A summary the Waldorf method of teaching writing to young children
∞ Ideas for introducing the Vimala Alphabet into different grades
∞ Details on using the Vimala Alphabet as a transformative tool for children
Also included are descriptions of the letters and their qualities, practice pages, letter forms to avoid, and practical tools to assist in teaching handwriting. Soul Development through Handwriting is a valuable resource for all Waldorf teachers, home schoolers, and others working with children.
CONTENTS
Rudolf Steiner on Education and Handwriting
The Vimala Alphabet
Introduction
1. Teaching the Letters
2. Terms of Art
3. The Letters
4. Letter Formation Guides
5. Practice Pages
Appendix:
Handwriting Assessment Form
Page Liners
Rudolf Steiner's Handwriting
Vimala Alphabet Resources
215-862-2452
farleysbookshop@netscape.net
Situated on the main street of the historic Delaware Riverfront town of New Hope, Pennsylvania, Farley's Bookshop and its knowledgeable, experienced staff have endeavored to satisfy the literary tastes of the area inhabitants for over fifty years. Whether you are Bucks County born-and-bred or just stopping by to enjoy the crisp river air and delightful scenery, you will be pleasantly surprised to find the largest and most diverse collection of books-in-print in Bucks County. Farley's may have competition, but it has few peers. We encourage you to browse our website, but please remember that getting acquainted with our online persona is no substitute for exploring the narrow passageways and teeming shelves of our storefront and discovering that perfect book nestled amongst so many others.