Winter Tree Finder: A Manual for Identifying Deciduous Trees in Winter (Eastern Us) (Nature Study Guides) (Paperback)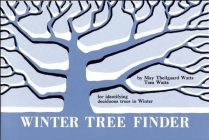 $5.95

Usually Ships in 1-5 Days
Description
---
Easily Identify the Trees You Find, Even in Winter

This essential guide by celebrated ecologist May Theilgaard Watts helps readers enjoy getting to know trees, even in winter when the leaves have fallen from the branches. With this handy, easy-to-use book, you'll be able to identify the trees around you in no time.

Features include:

Key to identifying deciduous trees (trees that lose their leaves in the winter) by looking at twigs, buds, fruits, and other features
Explanations of the structure of twigs
Information about habitats and ranges of native and some widely introduced trees
Illustrations with the author's line drawings
About the Author
---
May Theilgaard Watts (1893-1975) was a teacher, writer, illustrator, and naturalist. Born in Illinois, she was a pioneer in the field of ecology.
Situated on the main street of the historic Delaware Riverfront town of New Hope, Pennsylvania, Farley's Bookshop and its knowledgeable, experienced staff have endeavored to satisfy the literary tastes of the area inhabitants for over fifty years. Whether you are Bucks County born-and-bred or just stopping by to enjoy the crisp river air and delightful scenery, you will be pleasantly surprised to find the largest and most diverse collection of books-in-print in Bucks County. Farley's may have competition, but it has few peers. We encourage you to browse our website, but please remember that getting acquainted with our online persona is no substitute for exploring the narrow passageways and teeming shelves of our storefront and discovering that perfect book nestled amongst so many others.