Winter Weed Finder: A Guide to Dry Plants in Winter (Nature Study Guides) (Paperback)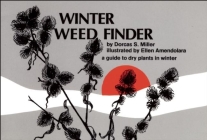 $5.95

Usually Ships in 1-5 Days
Description
---
Easily Identify the Weeds You Find, Even in the Winter

Enjoy learning to identify weeds in the wintertime with this guide from celebrated author Dorcas Miller. With this handy, easy-to-use book, you'll be able to identify a wide variety of weeds in no time. And its small size makes it just right for fitting into your pocket or pack when you go for a hike.

Features:

Provides a key to identifying non-woody plants in late fall and winter by the dried structures that remain after frost, such as pods, dried flower heads, seed capsules, and burrs
Includes common native and naturalized herbs and native ferns
Covers the upper Midwest and eastern United States north of South Carolina, as well as eastern Canada
Includes illustrations with line drawings
About the Author
---
This book was written by Dorcas S. Miller of Chelsea, Maine, author of several guidebooks in the series. Two-color Ilustrations are by Ellen Amendolara.
215-862-2452
farleysbookshop@netscape.net
Situated on the main street of the historic Delaware Riverfront town of New Hope, Pennsylvania, Farley's Bookshop and its knowledgeable, experienced staff have endeavored to satisfy the literary tastes of the area inhabitants for over fifty years. Whether you are Bucks County born-and-bred or just stopping by to enjoy the crisp river air and delightful scenery, you will be pleasantly surprised to find the largest and most diverse collection of books-in-print in Bucks County. Farley's may have competition, but it has few peers. We encourage you to browse our website, but please remember that getting acquainted with our online persona is no substitute for exploring the narrow passageways and teeming shelves of our storefront and discovering that perfect book nestled amongst so many others.