Good Weed Bad Weed: Who's Who, What to Do, and Why Some Deserve a Second Chance (All You Need to Know about the Weeds in Your Yard) (Spiral)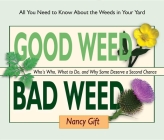 $19.95

Usually Ships in 1-5 Days
Description
---
Good Weed Bad Weed is a friendly, authoritative, easy-to-use guide to the uninvited plants in our yard: who they are, how to control them safely - and why it's a good idea to love some of them just the way they are (including a chart for how best to let our labor-intensive lawns "go native"). Weed expert Nancy Gift considers 50 of the most interesting and noteworthy weeds in our lives, with generous helpings of full-color photos, humor and some tasty weed recipes. Presented in the same format as our popular field guide to garden insects, Good Bug Bad Bug, with heavy matte-laminated pages and concealed-wire binding for handy use outside. An attractive gift book for adults and curious kids alike.
About the Author
---
Nancy Gift is an assistant professor of environmental studies and acting director of The Rachel Carson Institute at Chatham University in Pittsburgh. Previously, she wrote a book of garden essays, A Weed by Any Other Name: The Virtues of a Messy Lawn, or Learning to Love the Plants We Don't Plant (Beacon Press, May 2009).
215-862-2452
farleysbookshop@netscape.net
Situated on the main street of the historic Delaware Riverfront town of New Hope, Pennsylvania, Farley's Bookshop and its knowledgeable, experienced staff have endeavored to satisfy the literary tastes of the area inhabitants for over fifty years. Whether you are Bucks County born-and-bred or just stopping by to enjoy the crisp river air and delightful scenery, you will be pleasantly surprised to find the largest and most diverse collection of books-in-print in Bucks County. Farley's may have competition, but it has few peers. We encourage you to browse our website, but please remember that getting acquainted with our online persona is no substitute for exploring the narrow passageways and teeming shelves of our storefront and discovering that perfect book nestled amongst so many others.