Julia's House Goes Home (Hardcover)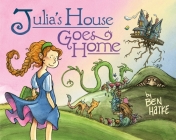 Description
---
Julia and her house full of fantastic friends are on the move, from #1 New York Times-bestselling author Ben Hatke.

Julia's flying house has come down to earth...and sprouted legs! Now it roams the landscape looking for the perfect spot to settle down. But just as Julia spots the Perfect Spot, off in the distance—her walking house trips! It tumbles down a steep mountain side, and Julia and her creatures are scattered across the hills while her runaway home continues rolling off on an adventure of its own. Now it's up to Julia to gather up her found family and track down her house, and maybe find that Perfect Spot once and for all.

With surprises around every corner and new creatures galore, master storyteller Ben Hatke weaves a moving and satisfying final episode for Julia's House, completing the trilogy of three picture books.
About the Author
---
Ben Hatke is the author and illustrator of the New York Times–bestselling Zita the Spacegirl trilogy, the picture books Julia's House for Lost Creatures and Nobody Likes a Goblin, and the graphic novels Little Robot and Mighty Jack. He lives and works in the Shenandoah Valley with his wife and their boisterous pack of daughters.
Praise For…
---
"Imaginative readers will pore over the illustrations for much longer than one reading."—Kirkus, starred review
215-862-2452
farleysbookshop@netscape.net
Situated on the main street of the historic Delaware Riverfront town of New Hope, Pennsylvania, Farley's Bookshop and its knowledgeable, experienced staff have endeavored to satisfy the literary tastes of the area inhabitants for over fifty years. Whether you are Bucks County born-and-bred or just stopping by to enjoy the crisp river air and delightful scenery, you will be pleasantly surprised to find the largest and most diverse collection of books-in-print in Bucks County. Farley's may have competition, but it has few peers. We encourage you to browse our website, but please remember that getting acquainted with our online persona is no substitute for exploring the narrow passageways and teeming shelves of our storefront and discovering that perfect book nestled amongst so many others.