Good Night, Little Blue Truck (Hardcover)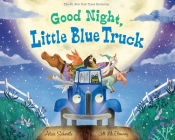 $17.99

Usually Ships in 1-5 Days
Description
---
Say good night with Little Blue Truck and friends as they prepare for bed in this #1 New York Times bestseller!
Beep! Beep! Beep! It's time for sleep. A storm is brewing, and Little Blue Truck and his good friend Toad are hurrying home for bed. But who can sleep with all that racket?
It's not long before other friends show up seeking safety from the storm. Thunder and lightning sure can be scary, but it's easy to be brave together. When the clouds roll on and the sky is clear, it's all aboard for a bedtime ride! Beep! Beep! Shhh . . .
The millions of Little Blue Truck fans will enjoy this sweet and funny bedtime read.
About the Author
---
Alice Schertle is a poet and author of many well-loved books for children, including the beloved, #1 New York Times best-selling Little Blue Truck series,Very Hairy Bear, Button Up!, and All You Need for a Snowman. She lives in Plainfield, Massachusetts.
Jill McElmurry
was the illustrator of many picture books, including her own 
Mad About Plaid, When Otis Courted Mama
by Kathi Appelt and the best-selling Little Blue Truck series
,
written by Alice Schertle. She happily divided her time between the wide landscape of New Mexico and a green island in Minnesota. Jill passed away in August 2017.
Praise For…
---
INSTANT #1 NEW YORK TIMES BESTSELLER! "Great to read on a stormy day. Fans of Little Blue Truck and new readers alike will be charmed by this picture book adventure."—School Library Journal "Little Blue Truck has been chugging along since 2008, but there seems to be plenty of gas left in the tank. A sweet reminder that it's easy to weather a storm with the company and kindness of friends."—Kirkus "It's a satisfying blend of huddling together in a crisis, soothing fears, and calming down -- great as a read-aloud and a bedtime book."—Common Sense Media —
215-862-2452
farleysbookshop@netscape.net
Situated on the main street of the historic Delaware Riverfront town of New Hope, Pennsylvania, Farley's Bookshop and its knowledgeable, experienced staff have endeavored to satisfy the literary tastes of the area inhabitants for over fifty years. Whether you are Bucks County born-and-bred or just stopping by to enjoy the crisp river air and delightful scenery, you will be pleasantly surprised to find the largest and most diverse collection of books-in-print in Bucks County. Farley's may have competition, but it has few peers. We encourage you to browse our website, but please remember that getting acquainted with our online persona is no substitute for exploring the narrow passageways and teeming shelves of our storefront and discovering that perfect book nestled amongst so many others.