Night on the Sand (Hardcover)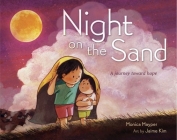 $17.99

Usually Ships in 1-5 Days
Description
---
In a tender tale of community and resiliency, two brothers who become refugees find hope in their bond with each other and through their connections with the people they encounter.
"We were not alone," is the refrain of this moving picture book that encourages empathy and acts of generosity while celebrating the power of human connection.
A little boy looks to his big brother for guidance after a disaster levels their city. Together, the boys journey to a sheltering beach, where they are welcomed by fellow survivors.
Absorbing the warmth of the new community, they begin to help others and to regain a steadying sense of hope. An author's note includes information about how to help refugees.
About the Author
---
After a career in children's book publishing in New York City,
Monica Mayper
now describes herself as a "writer-and-reader-in-residence." A lifelong "practicing poet" and the author of several picture books, she grew up in Fairfield, Connecticut, graduated from Reed College in Portland, Oregon, and makes her home in the community of Orient on Long Island's North Fork in New York State.
Jaime Kim is the New York Times best-selling illustrator of such books as La La La: A Story of Hope, by Kate DiCamillo, and Take Heart, My Child: A Mother's Dream, by Ainsley Earhardt. Born and raised in South Korea, Ms. Kim makes her home in North Carolina. Twitter: @jaimekimil, Instagram: @JaimeKimmy. jaimekim.com
Praise For…
---
"Powerfully compelling." — Kirkus Reviews (starred review)
"Poignant. […] The focus on community and sharing of resources emphasiz[es] a group mentality of communal survival. […] Worthy and needed." — Bulletin of the Center for Children's Books
"[The] generous message of hope and help is complemented by the stylized illustrations […] This work could not be more topical or timely."
— School Library Journal
"Vividly wrought." — Publishers Weekly
215-862-2452
farleysbookshop@netscape.net
Situated on the main street of the historic Delaware Riverfront town of New Hope, Pennsylvania, Farley's Bookshop and its knowledgeable, experienced staff have endeavored to satisfy the literary tastes of the area inhabitants for over fifty years. Whether you are Bucks County born-and-bred or just stopping by to enjoy the crisp river air and delightful scenery, you will be pleasantly surprised to find the largest and most diverse collection of books-in-print in Bucks County. Farley's may have competition, but it has few peers. We encourage you to browse our website, but please remember that getting acquainted with our online persona is no substitute for exploring the narrow passageways and teeming shelves of our storefront and discovering that perfect book nestled amongst so many others.