Secret Gardens (Hardcover)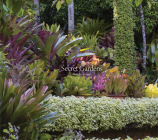 $50.00
Email or call for price
Description
---
In Secret Gardens, readers experience the magic of discovering beautiful, intricately planned, and meticulously cultivated hidden worlds. More than 200 spectacular images showcase 13 private gardens, extraordinary examples of landscape design that are usually inaccessible to the public, and which have never—or very rarely—been featured in any publication. From France, Spain, Germany, the Caribbean, Australia, New Zealand, and more, these gardens offer a dizzying range of horticultural and conceptual diversity. The designers reflect on the steps that went into bringing the garden to life, and the book concludes with biographies of landscape architects whose work is featured within, explaining the creative vision of some of the most respected design professionals working today.
About the Author
---
Alain Le Toquin has photographed gardens around the world for the last ten years. To date, he has visited more than 300 gardens in 23 countries on 5 continents. His photographs can be seen in Gardens in Time, The Most Beautiful Gardens in the World, and Flowers in the World's Most Beautiful Gardens.
Situated on the main street of the historic Delaware Riverfront town of New Hope, Pennsylvania, Farley's Bookshop and its knowledgeable, experienced staff have endeavored to satisfy the literary tastes of the area inhabitants for over fifty years. Whether you are Bucks County born-and-bred or just stopping by to enjoy the crisp river air and delightful scenery, you will be pleasantly surprised to find the largest and most diverse collection of books-in-print in Bucks County. Farley's may have competition, but it has few peers. We encourage you to browse our website, but please remember that getting acquainted with our online persona is no substitute for exploring the narrow passageways and teeming shelves of our storefront and discovering that perfect book nestled amongst so many others.