How Do You Dance? (Hardcover)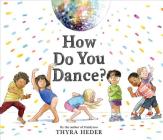 $16.99

Usually Ships in 1-5 Days
Description
---
A playful picture book that urges readers to bop, bounce, and shake, from the award-winning author of Alfie and Fraidyzoo

There are so many ways to dance! You can jiggle or wiggle or stomp. You can bop or bounce or go completely nuts. You can dance at the market or the bus stop, with your fingers or your face. You can dance because you're happy or even because you're sad.

But, what's the best way to dance? Exactly how you want to!

In How Do You Dance?, award-wining author-illustrator Thyra Heder explores dance in all of its creativity, humor, and—most of all—joy, in a picture-book celebration of personal expression that will inspire young and old readers alike to get up and get moving.

About the Author
---
Thyra Heder is the author and illustrator of Fraidyzoo, The Bear Report, Alfie, and How Do You Dance?. She is also a scenic designer and storyboard artist for film and advertising. She lives in Brooklyn.
Praise For…
---
**STARRED REVIEW**
"A gleeful, tender celebration of self-expression through movement, destined to become a favorite read-aloud."
— Kirkus Reviews

**STARRED REVIEW**
"Heder explores dance with pages of graceful, rhythmic watercolors that show people of myriad ages, ethnicities, shapes, and abilities stretching, bopping, spinning, and swaying. Moves executed in exuberance, impulsiveness, and self-care climax in a gigantic, inclusive dance party complete with glittery disco ball. Heder's stream of dancers encourages everyone to find a way to dance—even, perhaps, the most stubborn nondancers."
— Publishers Weekly

"Children and adults of many skin tones, body types, and dance styles boogie through this book. . . Warm and funny, this lively picture book would work equally well as a raucous readaloud and a companion to creative movement activities."
— Horn Book Magazine

"This bopping, grooving picture book will inspire readers to get up and dance themselves."
— School Library Journal
215-862-2452
farleysbookshop@netscape.net
Situated on the main street of the historic Delaware Riverfront town of New Hope, Pennsylvania, Farley's Bookshop and its knowledgeable, experienced staff have endeavored to satisfy the literary tastes of the area inhabitants for over fifty years. Whether you are Bucks County born-and-bred or just stopping by to enjoy the crisp river air and delightful scenery, you will be pleasantly surprised to find the largest and most diverse collection of books-in-print in Bucks County. Farley's may have competition, but it has few peers. We encourage you to browse our website, but please remember that getting acquainted with our online persona is no substitute for exploring the narrow passageways and teeming shelves of our storefront and discovering that perfect book nestled amongst so many others.