A Sick Day for Amos McGee: Book & CD Storytime Set (Macmillan Young Listeners Story Time Sets) (Mixed media product)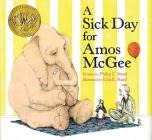 Description
---
THE BEST SICK DAY EVER and the animals in the zoo feature in this striking picture book debut.

Friends come in all sorts of shapes and sizes. In Amos McGee's case, all sorts of species, too! Every day he spends a little bit of time with each of his friends at the zoo, running races with the tortoise, keeping the shy penguin company, and even reading bedtime stories to the owl. But when Amos is too sick to make it to the zoo, his animal friends decide it's time they returned the favor.

A Sick Day for Amos McGee from Philip C. Stead, illustrated by Erin E. Stead is a 2011 Bank Street - Best Children's Book of the Year and the winner of the 2011 Caldecott Medal. This title has Common Core connections.
About the Author
---
PHILIP C. STEAD is the author of the Caldecott Medal winning A Sick Day for Amos McGee, also named a New York Times Best Illustrated Book of 2010 and a Publishers Weekly Best Children's Book of 2010, illustrated by his wife, Erin E. Stead (A Neal Porter Book, Roaring Brook Press, 2010).  Philip, also an artist, both wrote and illustrated his debut Creamed Tuna Fish and Peas on Toast (Roaring Brook Press, 2009), which was applauded by School Library Journal for "its wry humor and illustrations worthy of a Roald Dahl creation."  Philip lives with Erin in Ann Arbor, Michigan.
Erin E. Stead
has illustrated several children's books with her husband, Philip C. Stead. Their first picture book,
A Sick Day for Amos McGee
, won the Caldecott Medal. She has also illustrated
And Then It's Spring
(written by Julie Fogliano) and contributed to Eric Carle's
What's Your Favorite Animal
? The Steads divide their time between Ann Arbor, Michigan, and New York City.
Jim Dale is known to millions of fans as the voice of Harry Potter, as he narrated all of the books in the Harry Potter series. An AudioFile Golden Voice, he has received numerous accolades for his audiobook work. He has won seven Audie Awards and two Grammy Awards for Best Spoken Word Album for Children (for Harry Potter and The Goblet of Fire in 2000 and for Harry Potter and the Deathly Hallows in 2007). He also holds two Guinness World Records: one for having created and recorded 134 different character voices for Harry Potter and the Order of the Phoenix, and one for occupying the first six places in the Top Ten Audiobooks of America 2005.

 Dale's other audiobook credits include A Christmas Carol, Peter Pan, James Herriot's Treasury for Children, and Around the World in Eighty Days. Dale is also a stage and screen actor, well-known in Britain for his appearances in the Carry On films. He won the 1980 Tony Award for Best Actor in a Musical.
Praise For…
---
"Consummate narrator Jim Dale brings this story of kindness and empathy to life for little listeners. ...Dale's expressive narration, with an especially endearing Amos, is shared in two versions, the first paired with engaging music and the second with page-turn signals to allow listeners to read along with the charming picture book." -AudioFile

"Observant readers will notice tiny surprises hidden in plain sight: a red balloon, a tiny mouse and sparrow popping up here and there in the story. Erin E. Stead, the illustrator, overlays her pencil sketches with gentle tones of pink, peach, blue and green, and bright red spots that belie the deceptive ordinariness of the text." —The New York Times Book Review

"Thick, creamy paper and a muted palette add to the gentle resonance of a story that ends with everyone tucked in at last for a sweet night's sleep." —Washington Post

"It's hard to believe that this is Erin Stead's first children's book-her woodcut and oil-ink artwork is so warmly appealing that she seems like an old pro." —Time Out New York Kids

"Here is a book that exemplifies that happy combination where words and pictures carry equal weight and yet somehow create a whole that defies arithmetic." —BookPage

"Newcomer Erin Stead's elegant woodblock prints, breathtaking in their delicacy, contribute to the story's tranquility and draw subtle elements to viewers' attention." —Publishers Weekly, STARRED review

"Erin E. Stead's beautifully wrought woodblock prints and pencil work create almost painfully expressive characters...This gentle, ultimately warm story acknowledges the care and reciprocity behind all good friendships." —Kirkus Reviews, STARRED review

"Erin Stead's attentively detailed pencil and woodblock illustrations reveal character and enhance the cozy mood of Philip Stead's gentle text." —Horn Book Magazine

"Whether read individually or shared, this gentle story will resonate with youngsters." —School Library Journal

"Like the story, the quiet pictures, rendered in pencil and woodblock color prints, are both tender and hilarious… The extension of the familiar pet-bonding theme will have great appeal, especially in the final images of the wild creatures snuggled up with Amos in his cozy home." —Booklist

"If you want to give a child a book that will remain with them always (and lead to decades of folks growing up and desperately trying to relocate it with the children's librarians of the future) this is the one that you want. Marvelous." —Fuse # 8 blog
215-862-2452
farleysbookshop@netscape.net
Situated on the main street of the historic Delaware Riverfront town of New Hope, Pennsylvania, Farley's Bookshop and its knowledgeable, experienced staff have endeavored to satisfy the literary tastes of the area inhabitants for over fifty years. Whether you are Bucks County born-and-bred or just stopping by to enjoy the crisp river air and delightful scenery, you will be pleasantly surprised to find the largest and most diverse collection of books-in-print in Bucks County. Farley's may have competition, but it has few peers. We encourage you to browse our website, but please remember that getting acquainted with our online persona is no substitute for exploring the narrow passageways and teeming shelves of our storefront and discovering that perfect book nestled amongst so many others.