Moo (Novelty book)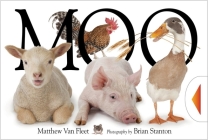 $24.99

Usually Ships in 1-5 Days
Description
---
From the #1 New York Times bestselling children's book creator Matthew Van Fleet.

Oink, Cluck, Squeak, Moo...Cock-a-doodle-doo!

Ingeniously designed flaps and pull tabs, accompanied by pettable textures, offer a flock of interactive fun in this innovative introduction to the habits and distinctive voices of seven species of barnyard residents. Toddlers will delight in identifying and imitating each critter!
About the Author
---
Matthew Van Fleet's innovative books have been introducing children to basic concepts for more than twenty years. His uniquely designed board books invite toddlers to touch, press, pull, lift, and even sniff as they explore colors, shapes, numbers, letters, opposites, and more. His New York Times bestselling titles include Cat, Heads, Alphabet, and Moo, as well as the #1 New York Times bestsellers Tails and Dog. His books have sold more than eight million copies and have been translated around the world. He lives with his family in New York. Visit him online at VanFleetBooks.com.

Brian Stanton is a New York based commercial photographer who shoots advertising, corporate, and editorial assignments. His clients include The Independent Film Channel, NBC, Bravo Networks, Lincoln Center, Panasonic, and Novartis. Brian's work can be viewed at BrianStantonPhoto.com.
Praise For…
---
Moo
Matthew Van Fleet, photos by Brian Stanton. S&S/Wiseman, $16.99 (18p) ISBN 978-1-4424-3503-2

Using a formula similar to its predecessors, Cat and Dog, Van Fleet's interactive board book identifies farm animals using simple, playful rhymes: "Mommy cow,/ Baby calf,/ Shaggy daddy bull./ Moo cow,/ Milk the cow--/ grab the udder, pull!" (The farmer's hands milk the cow at the pull of a tab, while a cat turns its mouth toward the spraying milk.) Textures--a woolly sheep, a duck's downy chest feathers--provide a touch-and-feel aspect, while flaps and pop-ups make this a playful excursion. Ages 2–up.

--Publishers Weekly, July 18, 2011

VAN FLEET, Matthew. Moo. photos by Brian Stanton.
PreS–This interactive board book dazzles the senses by portraying farm animals' sounds and textures. Nimble fingers can manipulate pages that include lifting flaps to reveal surprises, pulling and pushing tabs that create animal actions, and touching textures that represent animal fur and feathers. Touch and sound combine when listeners discover a rubber duck among the real ones and push a pad that makes the toy squeak. Children will learn the names for male and female, adult and young of each variety ("Mommy ewe, Daddy ram, Lambs just born"). The minimal text includes rhythm and rhyme. Stanton's full-color photographs contribute to the authenticity of the animals and the sensations stimulated in this book. Children are in store for an enriching, tactile-rich experience.–Diane Antezzo, Ridgefield Library, CT
School Library Journal, November 2011

A New York Times Bestseller

This multipurpose book follows the same format as the creators' Dog (2007) and Cat (2009), expanding the concept to include various farm animals like sheep, chicken, pigs, and horses. Crisp animal photos are arrayed against a white background, and the spreads feature different interactive elements from fuzzy touch patches to spring-loaded tabs that put the critters in motion, to flaps that reveal simple pop-ups. The text offers rhythmic morsels of information, such as the goat page that reads, "Mommy nanny, / Daddy billy, / Little kids butt." A hefty and handsome barnyard book. -- Booklist
215-862-2452
farleysbookshop@netscape.net
Situated on the main street of the historic Delaware Riverfront town of New Hope, Pennsylvania, Farley's Bookshop and its knowledgeable, experienced staff have endeavored to satisfy the literary tastes of the area inhabitants for over fifty years. Whether you are Bucks County born-and-bred or just stopping by to enjoy the crisp river air and delightful scenery, you will be pleasantly surprised to find the largest and most diverse collection of books-in-print in Bucks County. Farley's may have competition, but it has few peers. We encourage you to browse our website, but please remember that getting acquainted with our online persona is no substitute for exploring the narrow passageways and teeming shelves of our storefront and discovering that perfect book nestled amongst so many others.