The Wildest Cowboy (Paperback)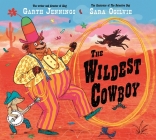 Description
---
Way out in the West there's a town they call Fear And only the roughest and toughest live here . . . When cheerful salesman Bingo B. Brown rolls his wagon full of Wild West goodies into town, he's met with a stony silence. This is clearly no place for novelty bow ties and elastic lassos. Not even Bingo's dancing dog can raise a smile! But this town is not just joyless, it's dangerous. And as Bingo soon discovers, the people of the town are not just scary, they're also scared. It isn't long before Bingo and his dog discover why, as they come face to face with the Wildest Cowboy in the West!  Featuring a dramatic train chase, rattlesnake socks and a dancing dog.
About the Author
---
Garth Jennings has directed videos for Blur, Radiohead, Beck, Fatboy Slim and Vampire Weekend. He is the director of two feature films, The Hitchhiker's Guide to the Galaxy and Son of Rambow, for which he also wrote the screenplay. He also directed the Golden Globe-nominated Sing, and is the author of The Deadly 7. Sara Ogilvie illustrated Dogs Don't Do Ballet, which was shortlisted for the Roald Dahl Funny Prize. 
215-862-2452
farleysbookshop@netscape.net
Situated on the main street of the historic Delaware Riverfront town of New Hope, Pennsylvania, Farley's Bookshop and its knowledgeable, experienced staff have endeavored to satisfy the literary tastes of the area inhabitants for over fifty years. Whether you are Bucks County born-and-bred or just stopping by to enjoy the crisp river air and delightful scenery, you will be pleasantly surprised to find the largest and most diverse collection of books-in-print in Bucks County. Farley's may have competition, but it has few peers. We encourage you to browse our website, but please remember that getting acquainted with our online persona is no substitute for exploring the narrow passageways and teeming shelves of our storefront and discovering that perfect book nestled amongst so many others.