They All Saw a Cat (Brendan Wenzel) (Hardcover)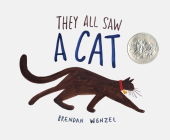 $16.99

Usually Ships in 1-5 Days
Description
---
New York Times bestseller and Caldecott Medal winner They All Saw a Cat is a visual delight and a charming read-aloud that invites kids and parents to explore the concept of perception.
The cat walked through the world, with its whiskers, ears, and paws . . . In this glorious celebration of observation, curiosity, and imagination, author and illustrator Brendan Wenzel shows us the many lives of one cat, and how perspective shapes what we see. When you see a cat, what do you see?  
ENGAGING AND THOUGHT-PROVOKING: Children will love following along with the simple, fun story, while parents will appreciate the book's clever and thoughtful lessons about how everyone has a unique perspective.
INCREDIBLE TALENT: Brendan Wenzel is a
New York Times
bestselling author and illustrator. In addition to the Caldecott Honor-winning
They All Saw a Cat
, he's also the creator of
Hello, Hello!
and
A Stone Sat Still
, and he has illustrated a number of other picture books focused on animals and nature.
RAVE REVIEWS: This bestselling book has earned multiple honors and starred reviews. Highlights include:
"An ingenious idea, gorgeously realized."—
Shelf Awareness
, starred review
"Both simple and ingenious in concept, Wenzel's book feels like a game changer."—
The Huffington Post
Perfect for:
Parents, grandparents, and educators
Preschool and kindergarten level readers
Gift givers looking for a fun, interactive family read-aloud book
Fans of picture books like I Want My Hat Back, Ricky the Rock That Couldn't Roll, The Wonderful Things You Will Be, What Do You Do With a Problem? and The Day the Crayons Quit 
About the Author
---
Brendan Wenzel is an illustrator based in Brooklyn, New York. A graduate of the Pratt Institute, his work has appeared internationally in children's books, animations, and magazines. They All Saw a Cat is his debut as both author and illustrator.
Praise For…
---
Amazon.com Top Ten Books of the Year

"How can I describe in words something so inventive and delightful and goofy and insightful and inspiring and full of yet another unexpected way of knowing and thought-provoking and just so wonderful? Wow. YAY!!! " -Molly Bang, Caldecott Honor Award winner

"A layered, funny and fascinating visual lesson in seeing and interpreting. It's a delightful experience in multiple perspectives and changing points of view."--The Washington Post

"The must-have picture book of the season."--Woman's World

"Ingenious... Not only is each illustration its own piece of art, but there is a miniature science lesson on every spread."--Real Simple

"Astounding and artful."--The Washington Post

"Such a cool way to illustrate the power of perspective."--Scary Mommy

"This is not your usual cat-themed picture book"--The New York Times, Best Books of the Season

Charlotte Observer Best Books of the Year

Indiana Too Good To Miss State Reading List 2018

Boston Globe Best Children's Books of the Year

"Visual storytelling at its best." -Christian Robinson, Caldecott Honor winning illustrator of The Last Stop on Market Street

"A powerful, rhythmic juxtaposition between word and image... it's marvelous."-Publishers Weekly, starred review

"Words never do justice to great picture books. You really need to read They All Saw A Cat for yourself to appreciate all that Wenzel has accomplished."--The New York Times

"Both simple and ingenious in concept, Wetzel's book feels like a gamechanger."-The Huffington Post

"Simply brilliant."--Cool Mom Picks

"Walk a mile in someone else's shoes" is a tough lesson to get across to the under 7 set... but Brendan Wenzel's stunning picture book stealthily embraces that theme with a sense of secret and wonder."--NPR

School Library Journal Best Books of the Year

Chicago Public Library Best Picture Books of the Year

"A perfect illustration of different perspectives."--Geek Dad

"What rich artistic exposure to go with modern messaging about why multiple perspectives matter."--San Francisco Chronicle

"Excellent... brilliantly simple."--Cindy Dobrez, Bookends: A Booklist Blog

"An ingenious idea, gorgeously realized."--Shelf Awareness for Readers, starred review

"This smart, thoughtful book is a pleasure for kids and parents alike."--Common Sense Media 5-star review

BookPage Best Books of the Yea

"Simple yet surprisingly sophisticated… beautifully conceived."-The Wall Street Journal

"Empathy and self-reflection may seem like lofty goals for a picture book, but Wenzel scores big with both through his extraordinary vision."--The Boston Globe

"A stunning example of the art of weaving poetry and illustrations into an inextricable whole; gracefully pulling the reader into a world where an ordinary insight becomes something beautiful, delightful and profound."-Tom Lichtenheld, illustrator of the New York Times Bestsellers Duck! Rabbit!, Goodnight, Goodnight, Construction Site and I Wish You More.

"They All Saw a Cat could very easily be the best, smartest, most original, and most beautiful picture book I have ever seen. EVER." - Matthew Winner, All the Wonders

"Dazzling"-The Horn Book Magazine

"Fascinating, thought-provoking, and completely absorbing."-Booklist>/i>, starred review

"To convey that profound shift in a way that a 3-year-old can understand is no small task; to do so in a way that enchants and delights, page after page, is remarkable."--Chicago Tribune

"With each turn of the page, the reader is given the opportunity to also see how the cat is viewed."--Books and Whatnot

"Simple yet surprisingly sophisticated... beautifully conceived."--The Wall Street Journal

"This is one of those picture books that I can honestly say every kid is going to get something out of and enjoy." - Maria Russo, Children's Book Review Editor, The New York Times

"A charming take on perspective."-FamilyFun

New York Times Notable Book of the Year

"Brendan Wenzel has made a beautiful book about both perception and the natural world." -Lane Smith author/illustrator of There Is a Tribe of Kids

"Brendan Wenzel's They All Saw a Cat is a joyous exploration of perspective, and a celebration of the fact that we all see things through our own lenses. It's a reminder that one's point of view can make all the difference. A perfect picture book!" -Laura Vaccaro Seeger, Caldecott Honor winning illustrator of Green

"From the endpapers to each clever composition, this title invites interaction and thoughtful looking, always allowing the child to discern meaning."--School Library Journal, starred review

"Thought provoking, entertaining and smart, it's one of the best picture books you'll see this year."--Bookpage

"A great picture book -like Brendan Wenzel's new They All Saw a Cat - reveals a secret about life itself."--NPR.org

Wall Street Journal Best Children's Books of the Year

"A brilliantly conceived lesson in how things - in this case, cats - can look very different depending on your point of view."-People Magazine, Best Children's Books of the Year

"Along with inviting more reflective viewers to ruminate about perception and subjectivity, the cat's perambulations offer elemental visual delights."-Kirkus Reviews

New York Public Library 100 Books for Reading and Sharing

"A magnificent example of how to tackle complex issues."--The New York Post

The Huffington Post Best Picture Books of the Year

"I saw A CAT. I have A CAT. I have drawn many CATS. I really loved THIS CAT." --Peter McCarty, Caldecott Honor winning artist of Hondo and Fabian and Henry in Love

"SUCH a cool book on point of view that it's a must-read, must-own book."--Imagination Soup

"The rhyme in this book is so perfected, its positively Seussian. Wenzel has untapped the formula for what makes a picture book work."-
-Twenty by Jenny

"A novel exploration of perspective. A lovely debut."-- Carson Ellis, bestselling author/illustrator of HOME

"They All Saw A Cat is a book about seeing, knowing, and being. And to my eyes, it's beautiful."-Chris Raschka, author if the Caldecott Medal-Winning A Ball for Daisy

"Wenzel has created the Caldecott winner for 2017.... You'll understand when you see it for yourself."--Elizabeth Bird, A Fuse#8 Production, a School Library Journal blog

"Seems so light on its little cat feet but goes right to the core of human experience. A keeper."-Shelf Awareness

"Nothing short of stunning."--BuzzWords

"Beautifully imagines a cat through the eyes of all the animals it passes as it walks through the world"- Time Magazine, Top 10 Children's and YA Books of the Year
215-862-2452
farleysbookshop@netscape.net
Situated on the main street of the historic Delaware Riverfront town of New Hope, Pennsylvania, Farley's Bookshop and its knowledgeable, experienced staff have endeavored to satisfy the literary tastes of the area inhabitants for over fifty years. Whether you are Bucks County born-and-bred or just stopping by to enjoy the crisp river air and delightful scenery, you will be pleasantly surprised to find the largest and most diverse collection of books-in-print in Bucks County. Farley's may have competition, but it has few peers. We encourage you to browse our website, but please remember that getting acquainted with our online persona is no substitute for exploring the narrow passageways and teeming shelves of our storefront and discovering that perfect book nestled amongst so many others.