Grandpa Grumps (Hardcover)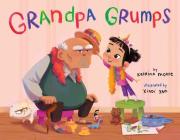 $17.99

Usually Ships in 1-5 Days
Description
---
Daisy's Yeh-Yeh is visiting from China, and try as she might, Daisy can't get her grumpy grandpa to smile!

Daisy's Yeh-Yeh is visiting for the first time from China, and Daisy is so excited to meet him! She has big plans for all the fun they'll have together, like tea parties and snow angels, but when Yeh-Yeh arrives, Daisy finds him less jolly than she imagined. Throughout the week, she tries all sorts of things to get him past his grumpiness. Will she be able to make him smile before he goes home?

Kids will love this funny and heartwarming story about overcoming cultural differences and connecting across generations!
About the Author
---
Katrina Moore writes and teaches in a part of New Jersey just outside Philadelphia. Earning an MA in elementary education, she's also taught in Maryland, Massachusetts, and New York. Her mission is to create books that children will hug for ages, like her debut picture book, One Hug. When not teaching elementary schoolkids or writing, she's cooking without a recipe, painting outside the lines, or snuggling up with her two kids, husband, Pomapoo pup, and of course, a cozy book. Visit her at katrinamoorebooks.com.

Xindi Yan left behind a small city in China, traveling thousands of miles to New York to realize her dream of being a published artist. She received her BFA in illustration from Pratt Institute and has since worked as an illustrator for the gaming industry and for children's books, some of which include Sylvia Rose and the Cherry Tree by Sandy Shapiro Hurt, The Itty-Bitty Witch by Trisha Speed Shaskan, and the Craftily Ever After series by Martha Maker. She currently lives in Brooklyn with her husband and dreams about having a puppy in the near future. See more of her work at xindiyanart.com.
Praise For…
---
Yan's cartoons have the look of modern animation; rendered in bright blended colors, they are sure to elicit giggles with their portrayals of Daisy's failed attempts to engage her grandfather. . . . Comical and heartwarming, this title should spark discussions of relationships and understanding.
— Kirkus Reviews

This precious story celebrates how love can transcend both generations and cultures. The language barrier with a foreign relative is expertly and affectionately portrayed, and both the story and its illustrations are fluidly multicultural. . . . Yan's delightful artwork has all the humor and detail and sunlight of a Pixar film. Many children will certainly relate to this sweet child with a big heart who just wants to make her elder happy-and does.
— Booklist

Pig-tailed Daisy and bushy-browed Yeh-Yeh's memorable expressions illuminate every page, and Daisy's sassy kitty and enchanting wardrobe (unicorn horn headband, fluffy boas and sparkling tiaras she shares with Yeh-Yeh) make for picture perfect scenarios. . . . With Yan's Pixar-ready illustrations and Moore's sweet text about familial communication, Grandpa Grumps invites smiles all around.
— Shelf Awareness

Moore has written a story that many immigrant parents, grandchildren and their visiting grandpas from native countries can identify with. . . . Yan's illustrations capture the mood of every occasion, from the grouchy gray of Grandpa's beard and attire to the confetti warmth of fried rice. . . . Moore invites the reader to learn vocabulary and follow along in Cantonese. It's whimsical and Chinglish, meant to be fun. Fans of Minh Lê and Dan Santat's book Drawn Together will enjoy this story of Daisy's incessant efforts to connect with a Grandpa who seems so distant. . . . This book will tug at your heartstrings.
— International Examiner
215-862-2452
farleysbookshop@netscape.net
Situated on the main street of the historic Delaware Riverfront town of New Hope, Pennsylvania, Farley's Bookshop and its knowledgeable, experienced staff have endeavored to satisfy the literary tastes of the area inhabitants for over fifty years. Whether you are Bucks County born-and-bred or just stopping by to enjoy the crisp river air and delightful scenery, you will be pleasantly surprised to find the largest and most diverse collection of books-in-print in Bucks County. Farley's may have competition, but it has few peers. We encourage you to browse our website, but please remember that getting acquainted with our online persona is no substitute for exploring the narrow passageways and teeming shelves of our storefront and discovering that perfect book nestled amongst so many others.