Voice of Freedom: Fannie Lou Hamer - Spirit of the Civil Rights Movement (Compact Disc)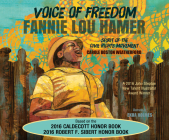 $14.99

Usually Ships in 1-5 Days
Description
---
Despite fierce prejudice and abuse, even being beaten to within an inch of her life, Fannie Lou Hamer was a champion of civil rights from the 1950s until her death in 1977. Integral to the Freedom Summer of 1964, Ms. Hamer gave a speech at the Democratic National Convention that, despite President Johnson's interference, aired on national TV news and spurred the nation to support the Freedom Democrats. Based on the critically acclaimed 2016 Caldecott and Sibert Honor Book, Voice of Freedom celebrates Fannie Lou Hamer's life and legacy with a message of hope, determination, and strength.
215-862-2452
farleysbookshop@netscape.net
Situated on the main street of the historic Delaware Riverfront town of New Hope, Pennsylvania, Farley's Bookshop and its knowledgeable, experienced staff have endeavored to satisfy the literary tastes of the area inhabitants for over fifty years. Whether you are Bucks County born-and-bred or just stopping by to enjoy the crisp river air and delightful scenery, you will be pleasantly surprised to find the largest and most diverse collection of books-in-print in Bucks County. Farley's may have competition, but it has few peers. We encourage you to browse our website, but please remember that getting acquainted with our online persona is no substitute for exploring the narrow passageways and teeming shelves of our storefront and discovering that perfect book nestled amongst so many others.