Cats 2022 Day-to-Day Calendar (Calendar)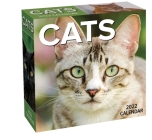 Description
---
Hey, all you ailurophiles (noun: a cat fancier; a lover of cats)! Were you aware that petting a cat has a calming effect that helps to relax, build peace of mind, and reduce anxiety? That alone is reason enough to be a lover of cats. This Cats 2022 Day-to-Day calendar is the other reason to be a cat fancier.
It is the perfect way to begin the day, get an extra dose of calm, and re-enforce that cat love with cat-centric quotes and adorable cat photos on every page.
Features include:
Full-color tear-off pages
Day/Date reference on each page
Widely celebrated and nationally recognized holidays and observances
Back of pages are blank for notes or shopping lists
Printed on FSC-certified paper with soy-based ink
Easel backer for desk or tabletop display
The
Cats 2022 Mini Day-to-Day
with the magnetic backer is also available.
About the Author
---
Andrews McMeel Publishing is a leading publisher of comics and humor, cookbooks, gift, puzzles and games, and children's books. AMP has a passion for publishing original talent, delighting consumers with innovative books and gifts that are worth sharing. It is also the nation's top calendar publisher, producing calendars based on many top-selling properties and selling more than 15 million calendars each year.
215-862-2452
farleysbookshop@netscape.net
Situated on the main street of the historic Delaware Riverfront town of New Hope, Pennsylvania, Farley's Bookshop and its knowledgeable, experienced staff have endeavored to satisfy the literary tastes of the area inhabitants for over fifty years. Whether you are Bucks County born-and-bred or just stopping by to enjoy the crisp river air and delightful scenery, you will be pleasantly surprised to find the largest and most diverse collection of books-in-print in Bucks County. Farley's may have competition, but it has few peers. We encourage you to browse our website, but please remember that getting acquainted with our online persona is no substitute for exploring the narrow passageways and teeming shelves of our storefront and discovering that perfect book nestled amongst so many others.