The Woman Who Turned Children into Birds (Hardcover)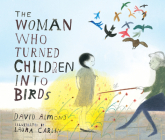 $18.99

Usually Ships in 1-5 Days
Description
---
Master storyteller David Almond's whimsical story about freedom, imagination, and daring all but soars off the page, paired with exquisite paintings by Laura Carlin.

"Go on. Be happy. Off you fly!"


A charming tale from a beloved storyteller and award-winning illustrator urges readers of all ages to take chances and find joy. Nanty Solo is new in town and claims she can turn children into birds. Terrified parents forbid the idea, but the children want to fly—they want it very much—and they do. One by one, they approach Nanty Solo. One by one, they are transformed until the sky over town teems with rooks and goldfinches, parakeets and sparrows. The adults take one look and cry, "Get out of that sky this very minute!" But the sight of their offspring—set free to soar, hope, and explore—soon has the grown-ups wondering what it might be like to have wings to fly and a beak to sing. The lilting, dreamy tale, told in David Almond's inimitable voice and playfully illustrated, assures us it's never too late to say yes to life.
About the Author
---
David Almond is the acclaimed author of many award-winning novels for children, including War Is Over, Skellig, The Tightrope Walkers, and The Tale of Angelino Brown. He has also collaborated with many celebrated artists, including Polly Dunbar, Dave McKean, and Oliver Jeffers, on fiction for younger readers. David Almond's books are beloved all over the world, and in 2010 he was the recipient of the prestigious Hans Christian Andersen Award. He lives in England.

Laura Carlin is the illustrator of The Song of the Nightingale, written by Tanya Landman; King of the Sky and The Promise, both written by Nicola Davies and both named New York Times Book Review Best Illustrated Children's Books of the Year; and The Iron Man by Ted Hughes, which was a Bologna Ragazzi Honorable Mention selection. Her artwork has been featured in Vogue, the New York Times, and the Guardian. She lives in London.

Praise For…
---
With the cadence of a fable, the book revels in the deliciousness of language. . . destined to become a family favorite. . . A timeless message with modern meaning to spare.
—Kirkus Reviews

Almond's lyrical text and intriguing ideas offer much food for thought.
—Booklist

A curious stranger brightens a small town in this buoyant picture book by Almond. . . It's the tale of the Pied Piper, transformed into a story of freedom. With hints of Roald Dahl and P.L. Travers, Almond's brief, electrifying tale champions defying convention and embracing risk.
—Publishers Weekly

Almond's lilting, offbeat story is in keeping with his other books, which often have magic and children who are different. . . . Carlin's dreamy artwork uses colored pencils to create vivid scenes of children in flight. . . The contrast between the drab city and the colorful feathered friends is striking.
—School Library Journal

Every page is filled with colorful, soft-focus sketches that perfectly compliment the text. This book would be a good addition to an SEL unit or as a read-aloud at the beginning of the school year to encourage children to be open to new ideas and to not be afraid to try taking risks to find things they enjoy.
—School Library Connection
Situated on the main street of the historic Delaware Riverfront town of New Hope, Pennsylvania, Farley's Bookshop and its knowledgeable, experienced staff have endeavored to satisfy the literary tastes of the area inhabitants for over fifty years. Whether you are Bucks County born-and-bred or just stopping by to enjoy the crisp river air and delightful scenery, you will be pleasantly surprised to find the largest and most diverse collection of books-in-print in Bucks County. Farley's may have competition, but it has few peers. We encourage you to browse our website, but please remember that getting acquainted with our online persona is no substitute for exploring the narrow passageways and teeming shelves of our storefront and discovering that perfect book nestled amongst so many others.