One for All: A Pennsylvania Number Book (Count Your Way Across the U.S.A.) (Hardcover)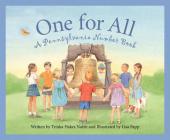 Description
---
Illustrated by Lisa PappIn One for All: A Pennsylvania Number Book, author Trinka Hakes Noble invites young readers to join her as she counts her way through the history and traditions of the great state of Pennsylvania. Using state symbols, landmark events, and famous people, numbers come to life in simple rhymes, accompanied by detailed expository text. Starting with one of the most recognized symbols in the state (and country ) Our Liberty Bell is number 1,
announcing the birth of our nation.
It rang from Independence Hall so high,
In 1776, in the month of July. and working all the way up through the largest chocolate factory in the world 100 chocolate kisses
is just the right amount
to fill our sweet tooth's wishes--
Let's do a backward count.
215-862-2452
farleysbookshop@netscape.net
Situated on the main street of the historic Delaware Riverfront town of New Hope, Pennsylvania, Farley's Bookshop and its knowledgeable, experienced staff have endeavored to satisfy the literary tastes of the area inhabitants for over fifty years. Whether you are Bucks County born-and-bred or just stopping by to enjoy the crisp river air and delightful scenery, you will be pleasantly surprised to find the largest and most diverse collection of books-in-print in Bucks County. Farley's may have competition, but it has few peers. We encourage you to browse our website, but please remember that getting acquainted with our online persona is no substitute for exploring the narrow passageways and teeming shelves of our storefront and discovering that perfect book nestled amongst so many others.