I Spy with My Little Eye Baseball: Baseball (Hardcover)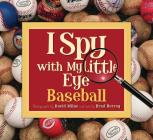 $15.99

Usually Ships in 1-5 Days
Description
---
For many sports fans there's no such thing as too much baseball. In I Spy with My Little Eye: Baseball, readers get double the fun. Brad Herzog (H is for Home Run: A Baseball Alphabet) teams up with photographer David Milne to create a visual puzzle book that challenges the deductive skills and sharp eyes of young readers. Dual look-alike photographs are filled with baseballs, bats, and memorabilia. But one of the scenes in each photo pair has been slightly altered. Can you see the changes? How many can you find? Poetic clues help young fans and seasoned veterans spot the differences. From the number of trophies in the case to the jerseys hanging in a locker room, baseball fans of all ages will enjoy this new way of spying the game Brad Herzog's books with Sleeping Bear Press include Full Count: A Baseball Number Book and S is for Save the Planet: A How-to be Green Alphabet. Brad has won several awards from the Council for Advancement and Support of Education. He lives on California's Monterey Peninsula. David Milne is a third-generation photographer in Toronto, Canada. He studied at Brooks Institute of Photography in Santa Barbara, California. David photographs art for numerous galleries and artists, corporate portraits, and products. David was also the photographer for I Spy with My Little Eye: Hockey.
215-862-2452
farleysbookshop@netscape.net
Situated on the main street of the historic Delaware Riverfront town of New Hope, Pennsylvania, Farley's Bookshop and its knowledgeable, experienced staff have endeavored to satisfy the literary tastes of the area inhabitants for over fifty years. Whether you are Bucks County born-and-bred or just stopping by to enjoy the crisp river air and delightful scenery, you will be pleasantly surprised to find the largest and most diverse collection of books-in-print in Bucks County. Farley's may have competition, but it has few peers. We encourage you to browse our website, but please remember that getting acquainted with our online persona is no substitute for exploring the narrow passageways and teeming shelves of our storefront and discovering that perfect book nestled amongst so many others.